Three-in-one box/three-in-one box three-in-one box, three-in-one box, three-in-one optical fiber splitter box, three-in-one optical fiber splitting box, three-in-one optical distribution box, triple play One optical splitter box, three-in-one optical fiber corridor box, three-in-one optical fiber distribution box (commonly shared and shared by three networks) specification configuration, three-in-one box specifications (24-cell, 36-cell, 48-cell, 72 Core, 96 cores, 144 cores) Size can be customized triple box: 700*600*120mm (Telecom, Mobile, Unicom, Broadcasting)
Triple play box: 700*500*150mm (Telecom, Mobile, Unicom, Broadcasting)
Triple play box: 750*550*150mm (Telecom, Mobile, Unicom, Broadcasting)
Triple play box: 550*450*120mm (Telecom, Mobile, Unicom, Broadcasting) Sharp Tip: (Remark: The above quotation does not include pigtail, flange, optical splitter) If necessary, please contact our staff contact……
Such as: the appearance of the box needs to be printed logo (free) Please describe clearly with the staff so as to avoid unnecessary trouble Rui speed professional telecommunications, mobile, China Unicom, Railcom, radio and television supply ancillary products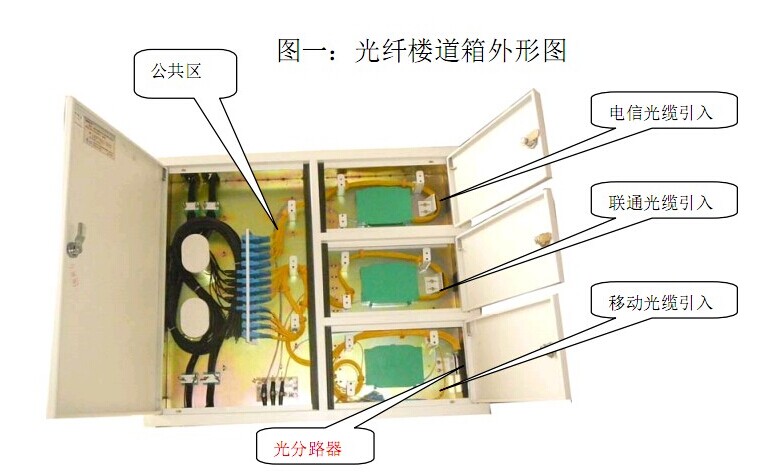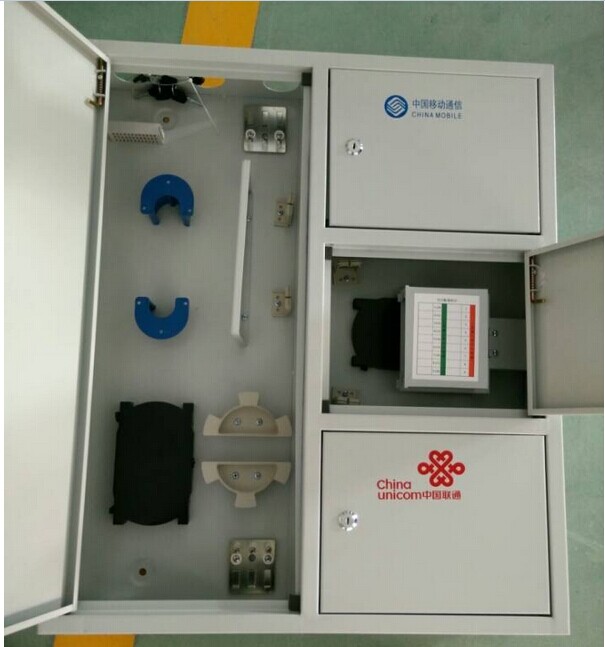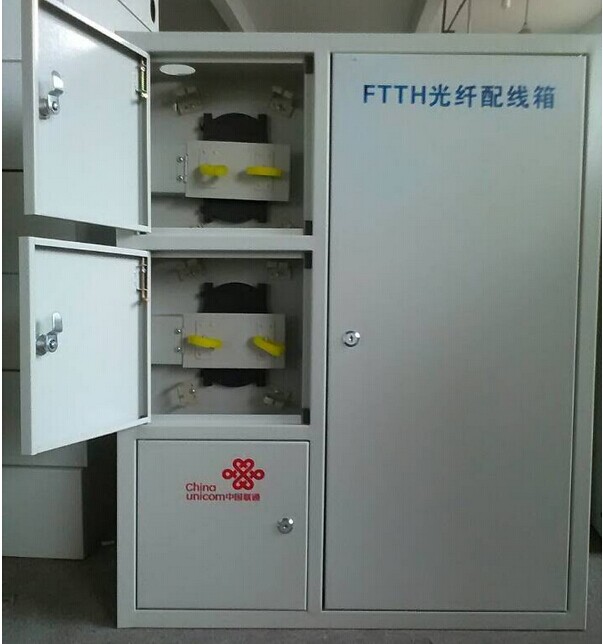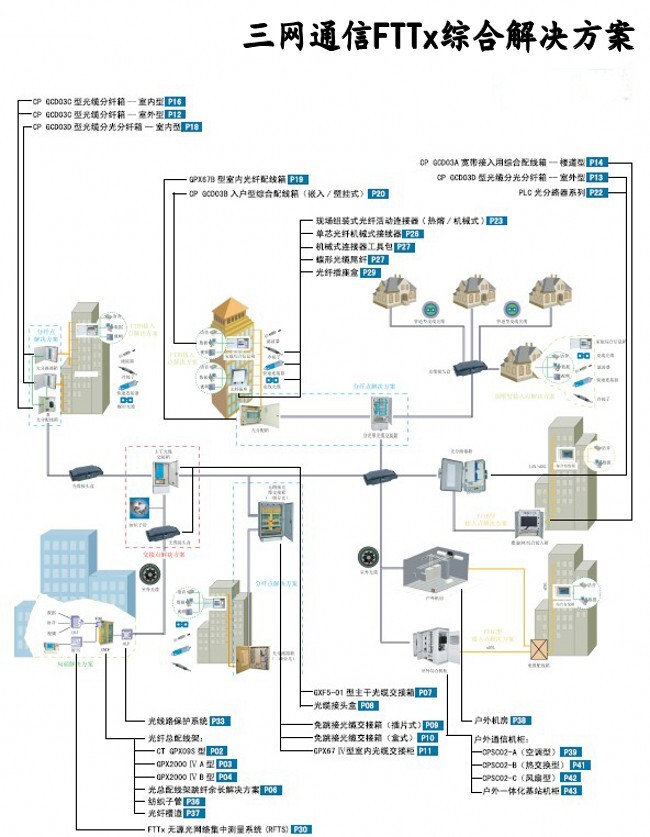 The product description is as follows:
Product introduction: FTTH outdoor wall-mounted optical splitter box is used for the wiring connection of optical cable and optical communication equipment. Through the adapter in the wiring box, the fiber jumper leads out the optical signal to realize the optical wiring function. Applicable to FTTH engineering fiber optic cable to the building, installed in the corridor, basement, computer room and building exterior wall. The optical fiber cable can also be welded to the drop cable after being dialed by the splitting distribution box to realize the through function of the optical cable and meet the requirements of the traditional transmission network engineering.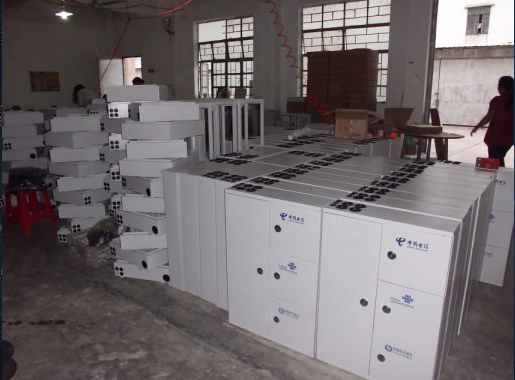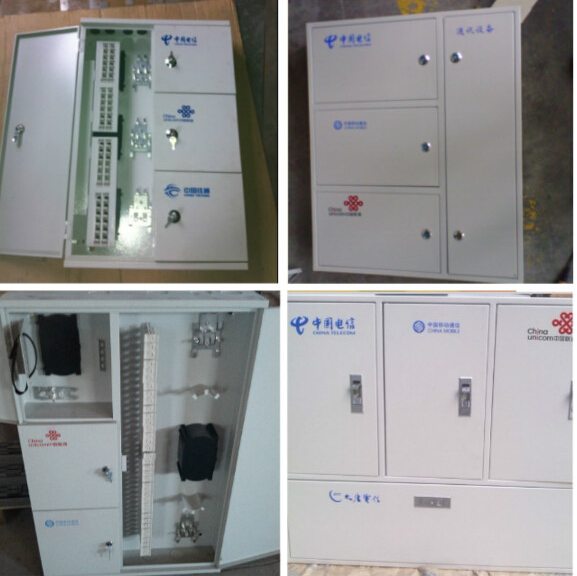 First, the main features:
1. Effectively achieve the integration of mobile, China Unicom, and telecommunications networks. Great savings in construction space and construction strength;
2. The box body is made of cold-rolled plate, which is treated by electrostatic spray and has beautiful appearance, clear lines, good anti-corrosion and waterproof performance, and long service life.
3. Optical splitter module adopts drawer type modular design, which has strong interchangeability and versatility;
4. Take the design of the left and right structure and the structure of the upper and lower structures. There are optical fiber fusion layers on the left and right sides, and the upper layer on the right is the optical splitter wiring layer, and the lower layer is the optical fiber fusion layer;
5. In the case of consistent chassis form and thickness, the maximum number of fiber splice trays is 6 to meet any type of connection in the construction process;
6. All kinds of connectors are convenient for termination and installation is flexible. Used for termination, use, and management of fiber optic cables in wiring closets and between equipment;
7. The door lock adopts high quality outdoor waterproof lock and the box body is mounted on the wall;
8. Has a temporary tail fiber storage area;
9. Support management of various fiber connectors, such as SC, LC, ST, MT-RJ, etc.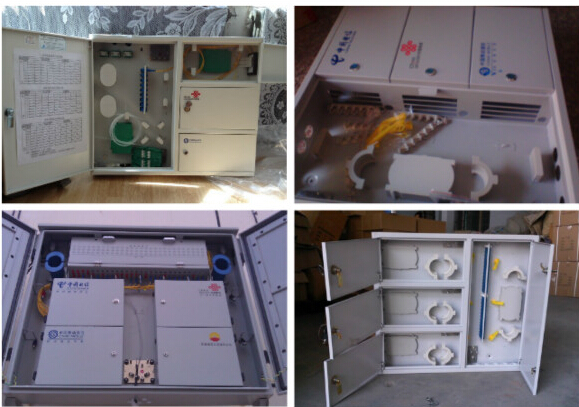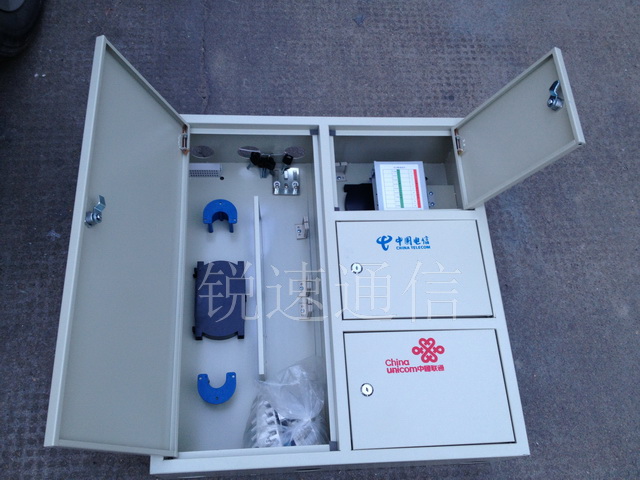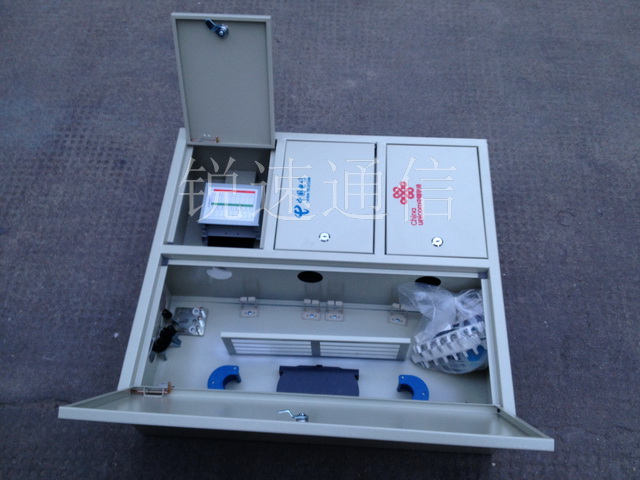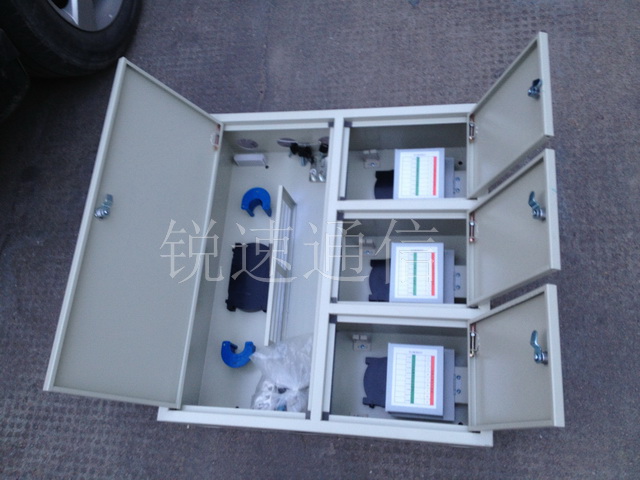 Second, technical parameters:
1. Working temperature: -30~+60 degrees, storage temperature -40~+60 degrees 2. Door opening angle: 180 degrees
3. Atmospheric pressure: 70Kpa-106Kpa
4. Optoelectronic performance: insertion loss ≤ 0.2dB; additional loss ≤ 0.2B
5. Return loss ≥ 45dB; additional loss ≤ 5dB
6. Plug durability life> 1000 times 7. Electrical performance: Insulation resistance ≥ 1000MΩ 500V (DC)
8. Electrical strength: Can withstand 3000V (DC) / 1min no breakdown / no arcing III. Applicability index:
1. Nominal operating wavelength 850nm\1310nm\1550nm;
2. Fiber optic cable conforms to GB/T11819 and GB/T7424 specifications;
3. The fiber optic connector complies with GB12507 and related standards and specifications;
4. The front operation and installation are very quick and convenient;
5. Splitter socket board can be flipped, butterfly optical fiber can be stored, easy maintenance and multiple maintenance of fiber optic cable;
6. Configure two standard inserter splitter installation slots to install two 1:4/1:8 inserter splitters;
7. Product Weight: Wall Mount: 22KG
Mosaic: 21KG
8. Product material: Cold-rolled sheet 9. Product color: Regular gray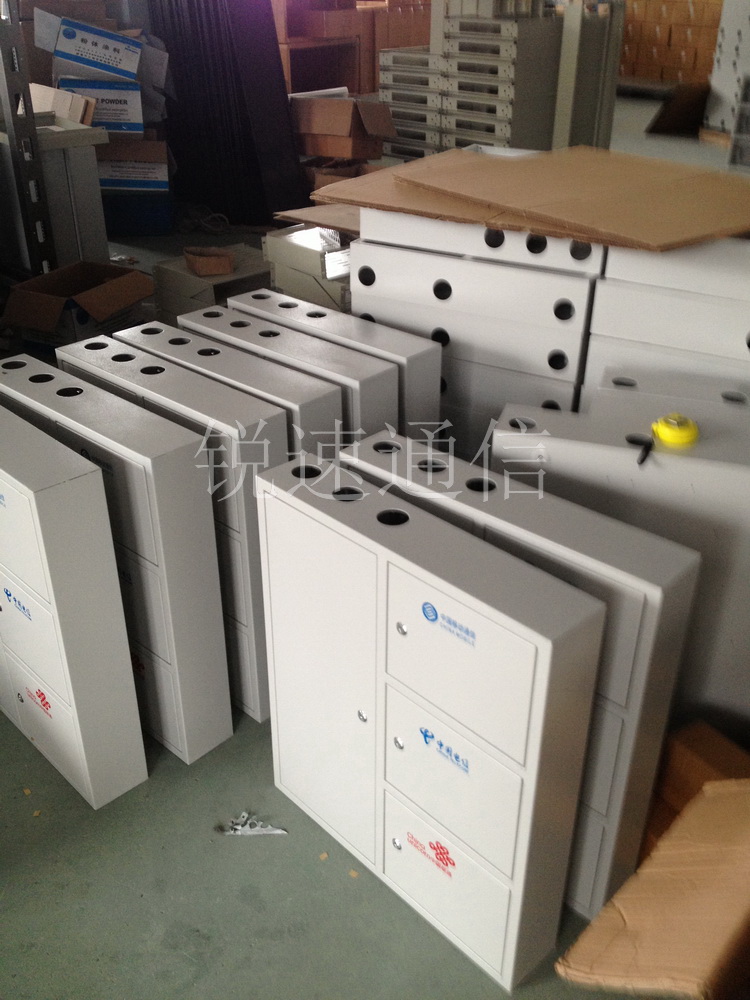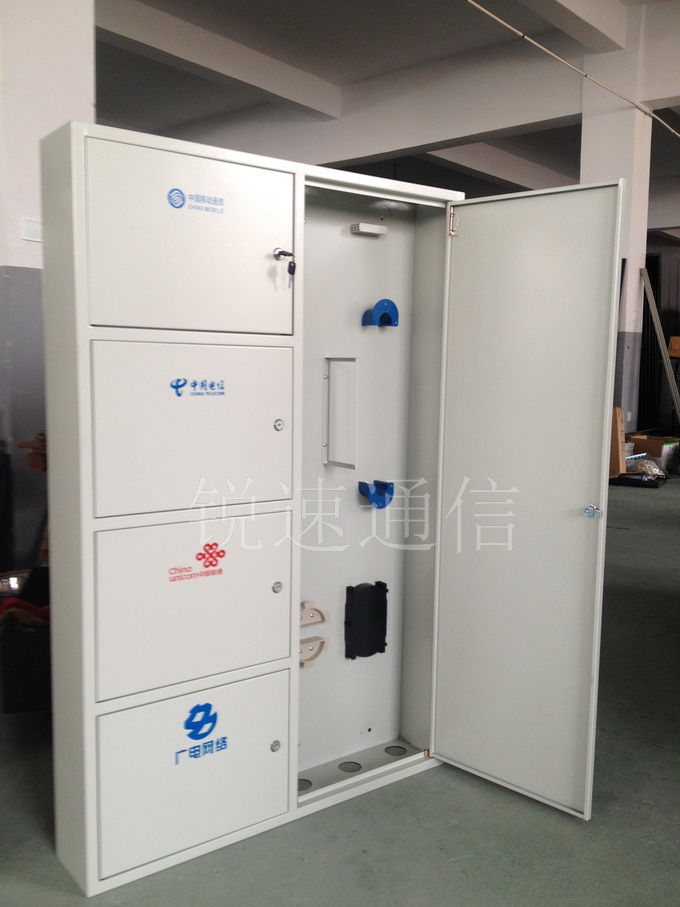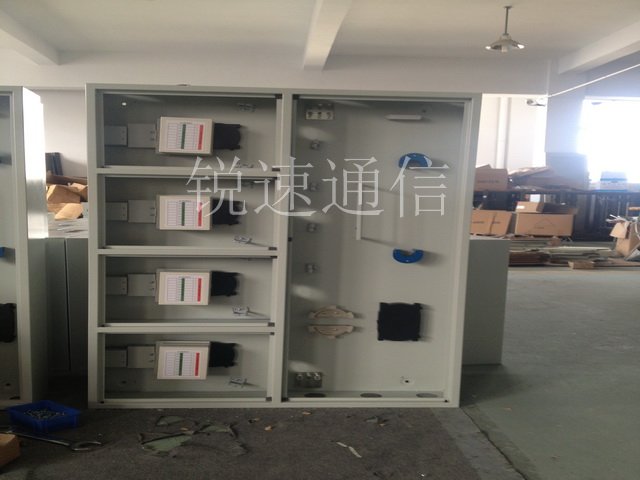 10. Product Process: Stamping Rui-speed communications marketing products Optical splitters, fiber optic quick connectors, cold junctions, optical fiber distribution box, optical fiber distribution box, fiber distribution box, fiber distribution box, optical splitter box, three Net box, optical cable transfer box, ODF optical fiber distribution cabinet, ODF unit box, ODF storage box, ONU distribution box, multimedia information box, DDF integrated box, DDF digital distribution frame, MDF main distribution frame, telephone distribution Wire racks, voice distribution frames, cable management racks, integrated trays, bundled pigtails, jumpers, flanges, fiber optic splice trays, cable management rings, fiber storage cartridges, wire cutters and other network products...
Ruisu Communication Products After-sales Service Commitment Book The company solemnly promised that every product we sent out for you will be guaranteed to help you test the quality of the test. No problem. We will help you immediately if there are any quality problems with the goods. Shipping costs paid by the company please rest assured to buy!
The company holds the integrity of the first customer supremacy and win-win attitude Our company has always attached great importance to provide customers with quality after-sales service to support our customers' product sales convenience and success, the company is willing to provide high-quality products for the entire set of equipment After-sales service, special commitments are as follows:
First, the delivery commitment 1, in strict accordance with the provisions of the contract, fulfill delivery deadlines, ensure the integrity of the products provided to ensure that customers install and use as scheduled;
2, in strict accordance with the provisions of the contract, specify the place of delivery, delivery methods, to ensure the safety of the goods;
3. Regardless of the order size, our company promises to complete the delivery of quality and quantity;
Second, after-sales service commitments 1. Provide customers with free product installation guidance and maintenance training;
2. Ensure that the product's measurement accuracy meets the requirements within five years; establish customer files and conduct regular product quality tracking services;
3. Establish and improve pre-sale, sales, and after-sales service networks and implement localized services. Solve the user's worries in the use of the product in the process of technical problems or other problems;
4, 24 hours to respond to customer needs;
5、After receiving the customer fault complaints, the customer will serve the customer 24 hours after the complaint.
Ruispeed Communication Marketing Area Hebei: Shijiazhuang, Tangshan, Qinhuangdao, Handanxingtai, Baoding, Zhangjiakou, Chengde, Ganzhou, Langfang, Hengshui, Shanxi: Taiyuan, Datong, Yangquan, Changzhi, Jincheng, Quzhou, Jinzhong, Yuncheng, Quzhou, Linyi, Luliang, Inner Mongolia, Hohhot, Baotou, Wuhai, Chifeng, Tongliao, Ordos, Hulunbeir, Bayandale, Ulanqab, Xingan Xilin Gol Alashan Northeast Liaoning: Shenyang Anshan Fushun Benxi Dandong Jinzhou Yingkou Fuxin Liaoyang Panjin Tieling Chaoyang Huludao Jilin: Changchun Jilin Siping Liaoyuan Tonghua Baishan Songyuan Baicheng Yanbian Heilongjiang: Harbin Qiqihar Jixi Hegang Shuangyashan Daqing Yichun Jiamusi Qitaihe Mudanjiang Heihe Suihua Daxinganling East China Jiangsu: Nanjing Wuxi Xuzhou Changzhou Suzhou Nantong Lianyungang Huai'an Yancheng Yangzhou Zhenjiang Taizhou Suqian Zhejiang: Hangzhou Ningbo Wenzhou Jiaxing Huzhou Shaoxing Jinhua Luzhou Zhoushan Taizhou Lishui Anhui: Hefei Wuhu Huainan Maanshan Huaibei Tongling Anqing Huangshan Luzhou Fuyang Suzhou Chaohu Liu'an Zhangzhou Chizhou Xuancheng Fujian: Fuzhou Xiamen Putian Sanming Quanzhou Ganzhou Nanping Longyan Ningde Jiangxi: Nanchang Jingdezhen Pingxiang Jiujiang Xinyu Yingtan Ji'an Yichun Fuzhou Shangrao Shandong: Jinan Qingdao Zibo Zaozhuang Dongying Yantai Weifang Weihai Jining Taian Rizhao Laiwu Linyi Dezhou Liaocheng Binzhou Heze South Central Henan: Zhengzhou Kaifeng Luoyang Pingdingshan Jiaozuo Hebi Xinxiang Anyang Liyang Xuchang Weihe Sanmenxia Nanyang Shangqiu Xinyang Zhoukou Zhumadian Hubei: Huangshi Huangfan Xiangfan Shiyan Jingzhou Yichang Jingmen Ezhou Xiaogan Huanggang Xianning Suizhou Enshi Hunan: Changsha Zhuzhou Xiangtan Hengyang Shaoyang Yueyang Changde Zhangjiajie Yiyang Zhangzhou Yongzhou Huaihua Loudi Xiangxi Guangdong: Guangzhou Shenzhen Zhuhai Shantou Shaoguan Foshan Jiangmen Zhanjiang Maoming Zhaoqing Huizhou Meizhou Shanwei Heyuan Yangjiang Qingyuan Dongguan Zhongshan Chaozhou Jieyang Yunfu Guangxi: Nanning Liuzhou Guilin Luzhou Beihai Fangchenggang Qinzhou Guigang Yulin Baise Hezhou Hechi Laibin Chongzuo Hainan: Haikou Sanya
Machining Plastic has a small density, light weight, can be insulated. machining Plastic is the use of CNC machining out, including drilling. Cutting, turning, machining Plastic commonly used products are: PA PC, Tetlon POM, PMMA. , we have a special inspection room to test the products, to ensure that and each size in line with the requirements of the drawings, but also a special machine for the production of material to withstand voltage insulation test. Applied in a variety of industries, including: drone, ship, communications, medical equipment, industrial automation equipment.
Machining Plastic,Oem Precision Machining Plastic,Cnc Machining Plastic,CNC Plastic Machining
Hong Kong RYH CO., LTD , https://www.longfeikitchenware.com