The Mann D3876 engine for trucks, construction equipment and agricultural engineering applications was awarded the " Diesel Engine of 2016" honor at the 2016 International Construction Machinery Expo. Its innovative concept is the root cause of the jury panel's favor.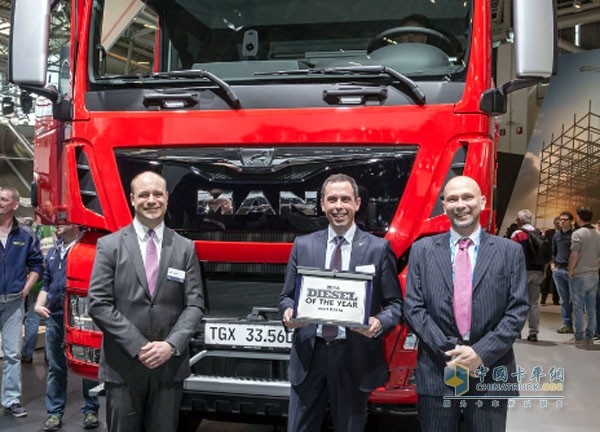 Jürgen Haberland, Head of Mannoff Road Engines, receives honor
The basic concept and high-strength material of the Mann D3876 engine left a deep impression on the panel of judges composed of media professionals from several automotive publications. This engine combines the new six-cylinder in-line engine with the proven Mann D20/D26 engine. "This allows the newly developed D3876 engine to have the valuable experience that it takes to travel millions of kilometers at the same time," referee Fabio Butturi said. Mann engineers who used this concept as a starting point gained numerous technological innovations during the D3876 R&D process. Top-Down cooling systems, arched valves, steel pistons, piston rings, and common-rail fuel injection systems with pressures up to 2500 bar combine to create this absolutely reliable and cost-effective D3876 engine.
At the 2014 International Commodities Fair, Mann Commercial Vehicles AG unveiled the newly developed 15.2 litre six-cylinder in-line D3876 LF0x diesel engine. It is a powerful, efficient and extremely reliable truck that can handle arduous transport tasks. Diesel engines. At the time, the D3876 LF0x was the new top model in the Mannault 6 engine family, thanks to its powerful performance: long-distance transport vehicles and haulage versions of the engine can provide 2500 to 3000 Nm of torque and 382 Power output of 412 kW (520 and 560 hp), while the heavy truck version of the engine provides 471 kW (640 hp) of power output.
After this, the further developed D3876 as an engine installed in agricultural engineering and construction equipment was unveiled at the 2015 German International Agricultural Machinery Exhibition and the 2016 International Construction Machinery Expo. The D3876 LE12x engine is available in 415, 450 and 485 kW (565, 612 and 660 hp) versions and is ideal for powering forage harvesters, tracked excavators and other mechanical equipment in many fields. State-of-the-art exhaust gas recirculation and SCR technology ensure that the engine can easily meet the US Final Stage IV emission regulations and CARB (California Air Resources Board) emission standards, as well as Euro 5 standards.
Aluminum Fireproof Panel is a kind of Aluminum Composite Panel.It has fireproof character and apart from it,it also have many other advantages.Such as 1. Light weight: aluminum plastic plate is composed of aluminum and plastic core material with low density. Therefore, compared with aluminum (or other metals) with the same rigidity or thickness, its quality is smaller, and its quality is much smaller than that of glass and stone.
2. Good rigidity: the aluminum-plastic plate skillfully uses the mechanical principle of I-beam structure and endows it with unique mechanical properties. In addition, the aluminum-plastic plate is compounded under high-temperature conditions, and in the whole processing process, the two-layer Aluminum Plate is in a certain tension state
3. Rich color and strong decoration: the layer surface of aluminum-plastic plate can be made into various colors, and the pattern design matching for all purposes can be carried out

Pe Aluminum Composite Panel,Pvdf Aluminum Composite Panel,Acp Aluminum Composite Panel,Fireproof Aluminum Composite Panel
Trumony Aluminum Limited , https://www.szaluminumtube.com