It is reported that due to optimistic about the potential of future production development, special vehicle companies have increased their investment in small suction trucks. At present, Hunan, Hubei, Liaoning, Shandong, Anhui and other provinces have formed a large-scale small suction truck industry, especially the addition of some vehicle companies, which has further improved the industrialization of small suction trucks. According to the latest market dynamics, companies have increased investment in the field of
special vehicles
, of which small suction trucks are an important investment direction. For example, some time ago,
China
Heavy Industries's Qingdao Heavy Industry has specifically invited local environmental and sanitation system personnel to promote its latest small suction model.
Differentiated competition into industry hot words
Despite the rapid development of China's small suction truck industry, the strength of small suction truck manufacturers has also been greatly improved, but compared with foreign developed countries, scattered and industrial inequality are still placed in front of China's small suction truck industry. A difficult problem.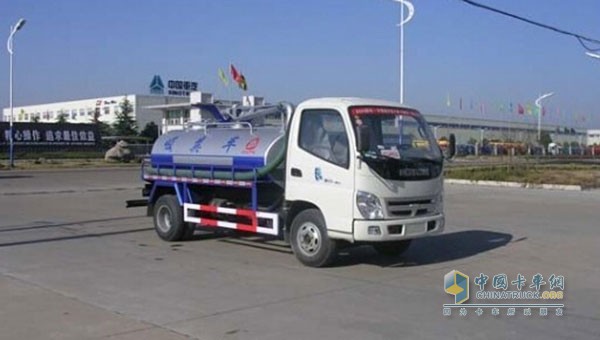 Foton Ao Ling suction truck
According to a salesperson from a special vehicle manufacturer in Suizhou, Hubei, due to the need for special refitting of small suction trucks, the country currently lacks specifications for special-purpose vehicle manufacturers, relevant regulations are not perfect, and entry barriers are low. This has caused some companies that are not up to the standard to easily mix in the field of small suction truck production.
Differentiation is the future development trend
It is understood that not only small suction trucks but also other similar vehicles have similar problems. Relevant departments have noticed the harm of these issues to the entire industry and have begun drafting relevant laws and regulations. According to Jining City Urban Management Bureau staff, Shandong Province is one of the traditional production bases for small suction trucks. In recent years, Shandong Province has issued relevant measures to support and standardize the development of special vehicle manufacturers such as small suction trucks. Most manufacturers also recognize the importance of long-term development and begin to increase investment in product upgrades and technology research and development. Relevant experts suggest that in order to avoid making a vicious price war make the whole industry profitability lower, it is recommended that companies take a differentiated competitive route.
Introduce foreign advanced technology or products
No industry can rely on closed doors to gain rapid development. In recent years, many special-purpose vehicle companies are also trying out forms of cooperation between entire vehicle companies and foreign companies, and have introduced foreign advanced technologies or products one after another. For example, Brilliance Automotive has set up a joint-venture special-purpose vehicle company with foreign famous special-purpose vehicle companies to make use of foreign mature technologies to focus on research and development of special-purpose vehicle products suitable for the Chinese market.
Beiqi Foton
has also stepped up its cooperation with internationally renowned companies. They even launched a new three-wheeled suction truck for new energy. Thousands of new energy-saving small suction trucks have been delivered to Beijing. In fact, the new energy small suction truck is becoming a development trend, and in recent years, the state has increased the subsidies for new energy vehicles. Therefore, there are also companies that have developed new energy small three-wheel suction trucks as their future development strategy.
Kage's Forged Hose Ends series fittings made in China from high grade aluminium and utilising our unique full flow formed bend which is the strongest and most compact hose end bend in the industry! Kage's fittings provide superior thread strength for smooth assembly. Have some adapter is an addition to female to male adapters with a NPT port.
Description of Forged Hose Ends:
Item: Forged Hose Ends
Process: CNC machining
Design: Universall or Customized
Material: Aluminium Alloy,Brass
Size: Custom Size
Thickness:Customized
Plating: Imitation gold, silver, brass, chrome or Custom requirement
MOQ:100pcs
Packing: 1pc polybag
QC Control: 100% inspection before packing,spot inspection before shipment
Sample time: 7days
Production time: 7-15 days,15-30days
Shipment: TNT,UPS,DHL,FEDEX,BOAT
Payment:100% in advance for small orders; 30% deposit, 70% before shipment for big orders.
Forged Hose Ends
Forged Hose Ends,Hose Connectors,Hose Fittings,Garden Hose Fittings
Kage Hardware Product Co., Ltd , http://www.kage-autofittings.com