[New concept of instrument network in China] Recently, the third World Internet Conference was officially held in Wuzhen, Zhejiang. ZTE Corporation and China Mobile have jointly demonstrated the latest achievements in the Internet of Things--the solution for common water solutions, marking a key step in the commercialization of NB-IoT application business.
This time, ZTE and China Mobile's first show of NB-IoT business - water quality monitoring pilot site in the beautiful Wuzhen, one of the actual survey site for the water near the Xizhe scenic pillow water. Participants can observe the water quality monitoring terminal from a close distance, and can also directly monitor the monitoring data and water quality analysis results of the water area through the on-line monitoring system directly at the exhibition site.
At the exhibition site, the five-solution solution for common governance has received extensive attention. Water quality monitoring has a very wide application prospect in China. A complete water quality monitoring program can play a strong supporting role in protecting the water resources in the future.
ZTE's joint solution for water and water treatment is based on NB-IoT technology, applying automatic control technology, precision analysis technology, and modern communication technologies. Through a wealth of smart sensors, the back-end of the IoT cloud platform can provide water quality information and water levels for various water sources. The information such as flow rate, rainfall, etc. is sensed and analyzed and processed; it is an online automatic intelligent environment monitoring system integrating water sample collection, water sample pretreatment, water quality automatic analysis, data collection and transmission, water quality left sample, and remote monitoring.
The system adopts advanced Internet of things technology, intelligent terminal based on NB-IoT chip and module, low power consumption, wide coverage, and low cost; through flexible and open architecture technology, it integrates multiple parameter sensors into one integrated intelligent terminal, and is fully real-time. Perceived water quality information, on-line real-time monitoring of water quality pH, water temperature, dissolved oxygen, electrical conductivity and turbidity; PaaS technology based on the construction of the system platform, flexible resource scalability, system deployment and maintenance simple and easy. Through on-line monitoring, over-standard early warning, big data analysis, and emergency linkage services, we can strongly support the protection of water resources, and implement the State Council's "Water 10," preventing floods, treating sewage, draining water, ensuring water supply, and catching water. The five waters co-govern to make the water clearer and the mountains greener.
(Original title: ZTE and China Mobile join hands to monitor water quality in NB-IoT business)
Loader Parts
1. We can provide Loader Spare Parts, Loader engine parts, Loader undercariage parts ,Loader Hydraulic parts, Loader Electrical parts .
2. Loader brand in China :SDLG Loader , Liugong loader , XCMC loader, LONGKING loader ,XGMA Loader .
3. Loader Engine Brand in China : Dongfeng Cummins Engines, Deutz engine, Weichai Engine , Shangchai Engine , Yuchai Engine .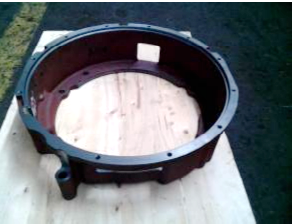 Deutz Engine Parts for SDLG Loader 1002061-D006 Flywheel housing
1. FAQ:
1. ) Which informations in our Requirment ?
Please send Part List including Loader model , Parts number and engine nameplate.
2. ) If we did not have parts nuber of diesel engine , how to solve ?
We have engine systerm to looking for your parts number and find the price
Of Diesel Engines and engine parts .
3. ) Which package for the Loader spare parts ?
Neutral package , Woodcase or wood pallet .
4. ) How many days of your delivery time ?
7-10 working days from Qingdao or Tingjin port .
5. )Which Payment method you will accepted ?
T/T, Westerunion, Paypal,Bank Transfer .
6. )How many times of guarantee period ?
In base of Loader manufacture standard .
Loader Parts
SDLG Loader Parts,Loader Parts,Wheel Loader Parts,Cat Loader Parts
Jining Kunpeng Construction Machinery Equipment Co., Ltd , https://www.excavatorenginepart.com