How to use the emergency lane correctly? The so-called emergency lanes, that is, the lanes used in emergency situations, are generally set on the urban ring roads and on both sides of the highways. The main role is to provide engineering assistance, medical aid, and civilian police to implement emergency services. The emergency lane is not used for the entry of ordinary social vehicles. If you pass or see the vehicle in the lane, you need to be punished. The penalty regulations have also been clearly stipulated in the Regulations of the People's Republic of China on Road Traffic Safety.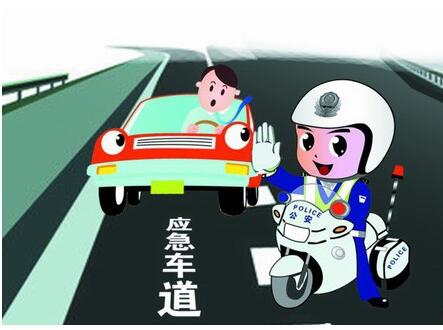 So, how to use the emergency lane correctly? This is where the emergency lane can be used in the following ways when it is actually in the freeway or emergency lane area that the fault has been encountered or cannot be solved. First, keep the vehicle in an emergency stop zone. Don't forget to turn on the hazard warning flash. At the same time, it should be noted that a warning sign should be placed in a certain area to prevent any other accidents from happening during the passage of other vehicles. If there is rain, fog, or nighttime, you need to turn on more lights on the car, such as taillights, rear fog lamps, etc., to allow other people to evacuate to a safe area. This is a solution that can only be used when there is a very urgent situation. General conditions such as traffic jams do not allow the car to stay in the emergency lane.
Of course, highways have an alarm call. When your situation cannot be solved by yourself, you can call the highway to make an alarm and request assistance. In order to ensure the smooth flow of roads, emergency lanes are prohibited from being used under normal circumstances. This requires everyone's attention. If they are not implemented in accordance with regulations, they will impose certain penalties and fines on drivers, and will be punished according to the seriousness of the circumstances. For example, when an accident occurs in a vehicle that cannot be moved but the vehicle is not marked as a fixed light, a fine of 200 yuan will be imposed.
Liquid Filter Housing
Stainless Steel filter housing is made of 100% SUS304 or SUS316L; Electropolished, smooth and round corner design, no dead space; small flow resistance; wide chemical compatibility, can be used in acid and alkaline solvents; easy to clean; wide range of connections sizes and types of Filter Cartridge for choice. Meet GMP requirements. Ideal for the filtration of food and beverage industry
Stainless Steel Liquid Filter Housing
Filter Housing,Stainless Steel Liquid Filter Housing,Liquid Filter Stainless Steel Filter,304Stainless Steel Filter Housing
Ji'an city Qing Feng Filter Equipment Material CO.,Ltd , https://www.qingfengfilter2.com