A few days ago,
Shangchai
held the 2012 annual business work conference. Shangchai general manager Wang Xiaoqiu made the annual operating report and Party committee secretary Shi Yimeng made the work report of the party committee. The meeting reviewed and summarized the 2011 work and made a full deployment of the work in 2012, requesting SAIC Motor to be organized around. The work requirements for the "three-turns" work have done a serious job in the 2012 reform, development and stabilization work.
In 2011, with the joint efforts of all employees, Sichai strived to overcome market pressure, actively seized market share, accelerated the product layout, stepped up capacity planning and construction, continued to promote lean production, and achieved key results. Shangchai achieved sales of 100177 diesel engines, and the quality of its economic operations continued to increase.
General Manager Wang Xiaoqiu pointed out during the deployment of 2012 work that Shangchai was facing a severe situation in 2012. The listed new products need to be approved by the market. The time for new product development is heavy, the construction of new factories and business adjustments are ongoing, and a large number of renovation and updating projects are heavy. Requires all companies to work together, focus on resources with enthusiasm, continue to work hard to do six key tasks, first, consolidate the advantages of the market, and develop new products; Second, step up product development and speed up the production capacity; Third, optimize the organization system to ensure the operation The fourth is to break through the bottleneck of quality and improve the supply network; the fifth is to avoid capital risks and effective capital operation; and the sixth is to optimize human resources and improve quality and ability. General Manager Wang Xiaoqiu asked the cadres to strengthen customer awareness and team awareness at the meeting, and create a culture that creates value for customers and strives for innovation in the enterprise.
Shi Yimeng, party secretary of Shangchai, made an important speech at the meeting. He said that the cadres of Shangchai should clearly understand the situation of the company in recent years. They must have "very hard" ideological preparations, form a consensus on the key points, grasp the fundamentals, and unify the concepts. Actions; To focus on the work requirements of the "Three Turns" of SAIC Group, to make the 2012 reform, development, and stability work conscientiously.
Product Description
Double Roll Crusher is designed for oil processing enterprises to handle large particles (soybean, peanut) oil crops in the first stage. Crushing effect direct impact on the quality and yield of the rolling billet, crusher is the key equipment of grease pre-treatment section. The machine can meet the crushing needs of daily processing capacity during 20T-1500T. Full set of large single motor drive crusher are designed on the basis of assimilation and introduction of imported technology, but the technical indicators exceed the level of similar products. The machines have been used for large oil processing enterprises in many countries.

Daily processing capacity: 500T/D (Crushing strength 1/4-1/8 adjustable)

Features:
1. Two motors drive
2. Synchronized use of digital reducer for roller gap adjustment
3. Roll feeder, evenly distributed feeding
4. Synchronized two-stage magnetic separator and automatic feed gate
5. Stable and reliable high-tensile frame
6. High-alloy crushing roller
7. Automatic drive belt tension mechanism
8. Imported bearing and independent bearing block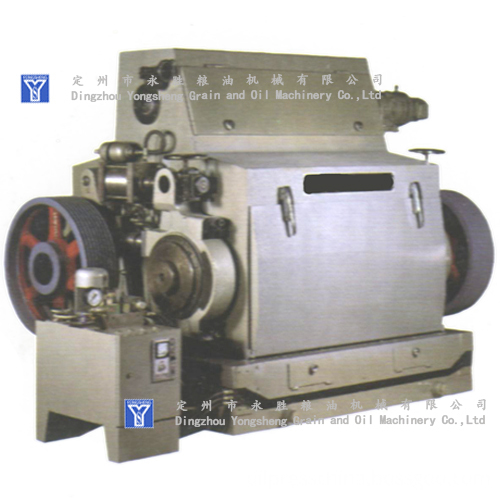 soy Bean Crusher Machine,Oil Seeds Material Crushing Machine,Plastic Crusher Machine,Cone Crusher Machine
Dingzhou Yongsheng Grain & Oil Machinery Co.,Ltd. , http://www.oilpresschina.com