[China Instrument Network Instrument Market] Water treatment is closely related to water meters and water quality monitoring and monitoring instruments. Recently, the research company Bluefield conducted surveys and analysis of more than 1800 PPP models (public-private partnership) water projects in 44 countries around the world, and issued an investigation report. The report predicts that the scale of water conservancy projects in the global public-private partnership model between 2016 and 2020 will increase by about three times from the current level.
The above report shows that the proposed global water conservancy projects can increase the total global water treatment capacity by an average of 6 million m3/day in the next few years, which is almost equivalent to the total increase from 2010 to 2015.
The Bluefield Research Institute stated that according to its research results, the total investment in the global water market from 2016 to 2020 will exceed US$58 billion, of which 80% (about US$46.4 billion) will be used for new desalination and wastewater treatment projects.
The company said that the rapid decline in oil and commodity prices, lower water tariffs, excessive groundwater overdrafts, and unpleasant discharge of unsatisfactory wastewater treatment have prompted governments to begin looking for and experimenting with opportunities for cooperation with private companies in the water treatment market.
The report predicts that water treatment markets (such as China and Brazil) that have been confirmed to have sustained growth in the PPP model (such as China, Brazil), water treatment markets (such as Indonesia, the Philippines, Mexico, and Egypt) that are beginning to stagnate and are now open or are about to With the opening of new water treatment markets (such as the Persian Gulf countries, Vietnam, Peru, and the United States), water projects that have been developed globally using the PPP model will increase significantly in the next five years.
Phuong Pham, a senior analyst at Bluefield, said: "Especially in emerging markets such as China, it is difficult for government agencies to integrate financial capabilities and operational experience well, but private companies can. What the government needs to do is pass new PPP regulations. To reduce risks for private investors and make the objectives of bidding more attractive, eventually achieving the goal of long-term retention and control of assets."


Chart: Statistics of water projects planned to be developed in PPP mode from 2016 to 2020 (by country and asset type)
At present, more and more private and semi-private companies are actively responding to water projects developed in the PPP mode.
Bluefield said that according to their analysis of the strategic investment portfolio of the world's top 50 water conservancy companies, the PPP water conservancy project market is facing a new round of reshuffle with the addition of new players.
At present, the leading enterprises in the global PPP water conservancy project market should be international large-scale integrated companies France Veolia and Suez Group. In recent years, the two companies have maintained a leading position in the world, and the processing volume of each water project is 19 million m3. /days or more. Followed by a few semi-private local public utilities (such as SABESP, COPASA, etc.), as well as fast-growing Chinese companies (Beijing Enterprises Water, Everbright International, etc.), as well as some emerging public utility franchises (such as ManilaWater, AEGEA, etc.) and integrated water companies (such as Aqualia).


Chart: Top 50 PPP Water Project Companies in the World (Statistics for 2015)
Keith Hays, vice president of Bluefield Research, said: "Because of the recent global economic downturn and the capital-intensive nature of large-scale water projects, many companies have hesitated or abandoned when they have the opportunity to participate in PPP water projects. Many companies choose to While pursuing risk minimization, it will reassess its position in the overall industry chain. After the market reshuffles, players will remain clear in the face of long-term macroeconomic uncertainty, and they face new opportunities. Can be better handled."
The stud machine is special for small size of U purlin, C purlin and so on. The purlin is widely used as the storage rack in the supermaket, the ceiling frame and the door and window frame. The stud machine use non-stop cutting system, so the speed can touch 50m/min. And two different model design can be made in one machine. That kind of design would save the cost of machine, and the space of warehouse. It has the advantage of light weight, neat appearance.Such as metal stud and track Roll Forming Machine.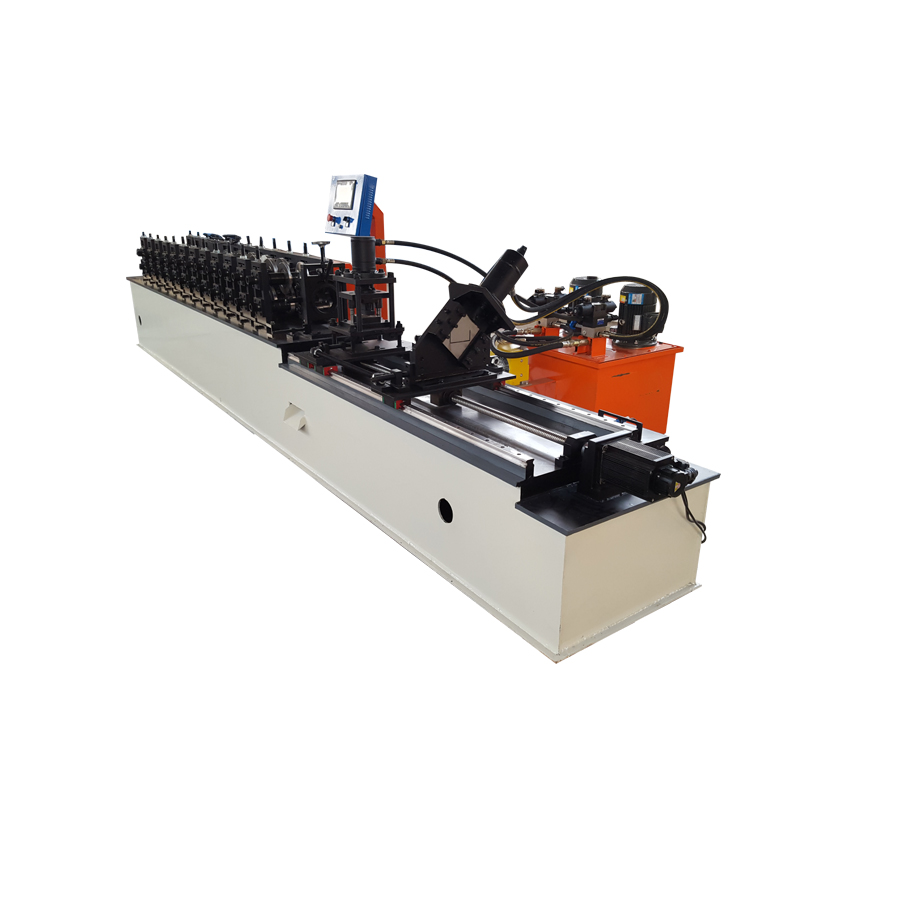 Stud And Track Furring Roll Forming Machine
Stud And Track Furring Roll Forming Machine,Keel Roll Forming Machine,Light Keel Roll Forming Machine,Furring Channel Roll Forming Machine
Botou Xianfa Roll Forming Machine Factory , https://www.rollforming.nl