Over the past decades, China's spare parts industry has been "open enough and under-reformed" and has been in a spontaneous state of development for most of the time. As a result, many major problems have not been solved in a timely manner and are resolved effectively. More and more problems have arisen. serious.
With the influx of multinational auto parts companies, competition for the market, and the extrusion of domestic parts and components companies, coupled with the low innovation capacity of our large number of small and medium-sized parts and components companies, the competition mechanism is not perfect, and the situation under internal disputes is Extensive, disorderly, lagging, and chaotic states have formed, and the development trend of asymmetrical "scissors" has formed with auto companies. China's automobile production and sales have leapt to the top in the world, but parts and components are lacking in core technologies, leaving domestic auto parts companies to be exposed to "hollowing" and "foaming" risks. If we do not reverse this lag and do not have strong component support, it will be impossible for the automobile powers to talk about them. This kind of situation will not improve very well in the short term and may continue for quite some time to achieve gradual and gradual development. Therefore, the task of transformation and upgrading is very arduous.
I think that in order to promote the transformation and upgrade of the auto parts industry in depth, we must strengthen top-level design reforms and dare to reform our lives.
First of all, it is necessary to strengthen the revolution in the thinking of auto parts and turn the long-term development ideas of "heavy cars and light parts" from top to bottom. Japan and South Korea's approach to the development of the auto industry is to focus only on the revitalization of parts and components rather than on automobiles. We are exactly the opposite, and we must learn from the fact that cars do not grasp parts and components. This experience is worth learning.
Secondly, for enterprises, it is necessary to strengthen innovation capacity building. This is the main role of performance, but many high-tech companies, parts and components companies, and even the industry are incapable of solving problems. They must be organized by the national or local administrative agencies, regardless of industry, Starting from basic research and starting with materials research, we propose to establish an "auto parts innovation system" to make the core technologies of auto parts form a kind of innovative industrial chain in the face of deficiencies. Destructive innovation.
In addition, it is necessary to change the disconnect between scientific research and industry. We must try to support the establishment of various professional R&D institutions for parts and components, and move the R&D business toward industrialization and socialization. In many international automobile manufacturing centers, small specialized research and development institutions are set up, and the level of professional R&D at a certain point is very deep. The commercialization of R&D business is very beneficial to the integration of vehicle R&D.
Due to the revival of the global economic crisis and the tremendous advancement in science and technology, the global automotive industry is vigorously promoting the large-scale customized business model. This will inevitably require many, multi-level, large- and small-scale parts and components companies to innovate vigorously and use innovation to drive companies. The development of the implementation of modular synchronization projects, as well as ahead of the project, closely match the needs of the development of new business models.
Recently, some auto manufacturers in China have also adopted mass customization business models to varying degrees, and large-scale customized business models will be popularized.
Driven by this new business model, the automotive and parts industries are undergoing a new division of labor. The auto companies are mainly engaged in responding to the ever-changing market demands, focusing on R&D and innovation of the entire vehicle, and extensive outsourcing. Purchase Method Get Parts. In response to the ever-changing requirements of vehicle manufacturers, parts and components companies have also deepened the continuous upgrading of professional parts and components. In this way, a new type of zero-relationship, that is, collaborative engineering is formed.
Collaborative engineering is an integrated system engineering that integrates auto manufacturers, suppliers, customers, and distributors. Under the guidance of system engineering, with the concept of overall optimization, networked and digital business exchange and cooperation must be implemented from the beginning of R&D. , Give full play to the potential of the industry chain to meet the individual needs of customers.
The expectation of collaborative engineering for auto parts companies is mainly that: for the specialized products of their own companies, they must be high, large, sophisticated, and sharp, and strive to master the core technologies of their own professional products. Product development changes the traditional sequence and serial design manufacturing methods, implements simultaneous, parallel design, and manufacturing levels; applies a modular approach to meet the requirements of multiple choices and combinations of multiple platforms, styles, and customization; organization matrix management In order to cope with the flexible configuration of different projects, to achieve the subdivision of the development process, quantifiable functional requirements.
Collaborative engineering is the development trend of the current and future automotive industry's zero relationship. In China's auto industry has been widely developed and deepened, has become an important microcosm of car power. The implementation of collaborative project is an important direction for the transformation and upgrading of China's spare parts enterprises. Whoever does a good job is the winner.
1.After the upgrade of the car GPS player for Porsche, the interpretation of the music, and the atmosphere was precise and delicate balance, show the good music and soft beauty, to bring you the perfect spot to experience. Music composed of gorgeous and classic charm pleasant, to have a sense of energy, density, information the amount of sound, constitute elements of resolution and position sense. So that we can enjoy comfortable music, but also allows us to naturally into the music, through profound perception of music thoughts and emotions and the evolution and rhythm are the soul of the joy from rising with Car radio for Porsche .
2.Bulit-in WIFI hotspots sharing:easy and seamless internet access for you to browser the internet, watch online videos, check your mail, play games, download apps, or even navigation with free online maps.Cost-effective with free online maps: You can easily access different online maps such as Google map, IGO, Sygic and Waze map for free. With Google map, you can get the most accurate and up-to-date routes, live traffic data and more. Find your way around has never been faster and easier.
3.Support easy-connected feature: Compatible with android smartphones and devices, the easy-connected feature enables mutual control between your smartphone and car head uni. You can simply connect and synchronize your smartphone to the uni via USB, with no additional software required.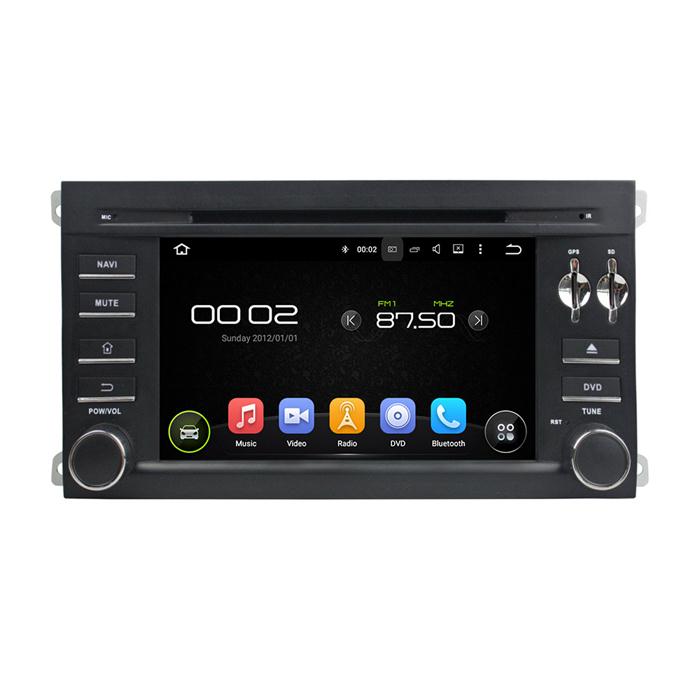 Porsche Android Car Dvd
Porsche Android Car Dvd,Porsche Android 5.1 Car Dvd,Porsche Android 5.1.1 Car Dvd,Porsche Android 4.4 Car Dvd
SHEN ZHEN KLYDE ELECTRONICS CO., LTD , http://www.szklyde.com