In many cases, such as large-scale high-end conferences and exhibitions, the flow of people is relatively large, the demand for toilets and toilets is concentrated, and the requirements for sanitary conditions are also high. Then if there are trailers on the side of the toilet, then it will be powerful!
One: What is the trailer toilet ?
It is a portable toilet car. It mainly uses color-strengthened glass fiber reinforced plastic as the main structure. It is sturdy and durable, beautiful, and does not rust, corrosion, smooth on both sides of the wall, easy to clean, meet the health requirements, can be set to move Location and other features.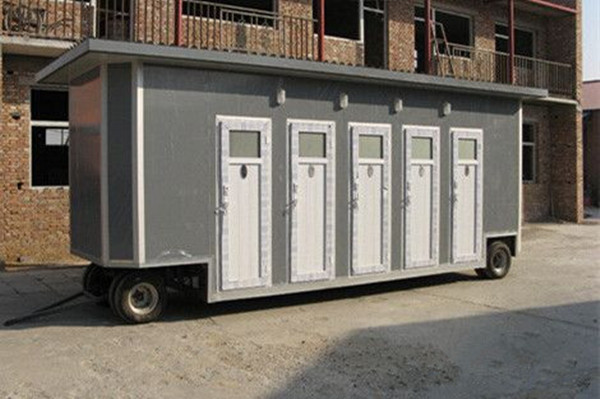 II: Configuration of trailers for trailers
The main configuration: foot-type squat toilet, stainless steel handrail, coat hook, cosmetic mirror, water-free sterilizing hand sanitizer, stainless steel paper tray, waste paper barrel, intelligent energy-saving lighting system, unmanned display device, automatic exhaust air supply System, toilet advertising light boxes, toilet signs, steps.
Three: The characteristics of trailer toilets
1. The toilet has no odor, no flushing, and saves water resources; 2. The model is packaged without electricity; 3. The pollution-free gas; 4. The mechanical device, the failure rate is small; 5. The mobile is convenient for the people; 6 There is no need to take water and septic tanks.
Four: The use of dragging toilets

The toilet is widely used in various types of public toilets, tourist attractions, beachfront, residential, assembly venues, exhibitions, highways, parking lots, underground works, schools, military, sports fields, golf courses, construction sites, commercial streets, trade Markets, inbound ships, temporary workshops, yards, parks, train stations, campgrounds, sports competitions, and other temporary venues for outdoor activities.
Hanging toilets can solve your inconvenient problems in any place, so that you are no longer anxious!
SMC WaterTank made of Fiberglass reinforced plastics which is divided in FRP Modular type and SMC combination type. The major advantage is light weight, antirusted, nonleakage, long durable time and easy to clean.It is widely used in hotel, school,hospital and coal mine enterprise.
What is SMC material?(SMC tank also called FRP,GRP tank)
1. Sheet Molding Compound is a fiberreinforced material, which consists primarily of a thermosetting resin glass fiber.
2.SMC is a high tech material that is used in the manufacturing process in most of our products ranges.
3.The advantage of SMC include, high impact compressive, flexural and tensile strength along with temperature stability.
4.SMC has low profile, low shrink for excellent surface appearance and painting.it's color pigmentable and has excellent chemical and electrical resistance varied to provide insulation, conductivity or anti static properties.
SMC Water Tank Features and structure
1) Strong resistance to corrosion.
2) Reasonable structure design.
3) All welded on-site combination. High strength, good sealing, prevent secondary pollution of water quality.
4) Light weight, that is one half of ordinary steel plate water tank.
6) Clean, bright, beautiful appearance.
SMC Water Tank Panel size for your reference:
Water tank size: Can be made as your reuqest.
Panel size: 1mx1m, 0.5mx0.5m, 1mx0.5m
Wall board thickness: 5mm,8mm,10mm,12mm,14mm,16mm etc.
SMC Water Tank Accessories:
Grp Water Tank,GRP Tank,GRP Radar Water Tank,Underground Water Tank
Hebei Long Zhuo Trade Co., Ltd. , https://www.hblongzhuo.com