Customers who want to buy a mobile sales wagon may have various questions before proceeding with the purchase. If these problems are not solved, there is no way to select the appropriate mobile sales vehicle. The following Xiaobian organizes the issues that customers are more concerned about and share with you.
Question 1: What is the material of the mobile van? How many cargo compartments can be deployed? What is the size?
A: The box is constructed from outer cold rolled plates and inner aluminum sampan plates. The standard on the cargo compartment is a three-sided deployment with flap-type shelves on both sides. The size of each car model is not the same size, but also can be customized according to the customer's own needs.
Question 2: How do mobile power supply trucks supply electricity?
A: The standard comes with a battery for power lighting, and it also has a mains external interface (220V). Additional batteries and inverters can be installed to take power; petrol generators can also be installed, with 3-8kW optional.
Question 3: Can C drive?
A: The car is in line with the national blue standard, and there is no need to worry about C driving.
Question 4: The mobile sales truck is ready. How do you mention the car?
A: 1 customers mention; 2 manufacturers to deliver, but may charge more oil.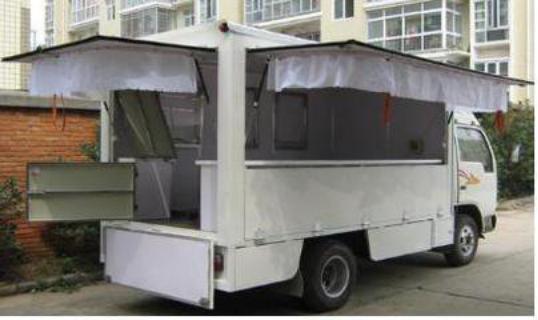 Question 5: Does a mobile vending vehicle require a license? How is it?
A: The mobile vending car requires a license. The car is refitted in a regular factory, and the manufacturer issues a certificate and an invoice, which is in compliance with the national announcement and can be used on a license plate.
Question 6: What are the procedures for mobile sales trucks to sell in the city?
Answer: You need to apply for business license and tax registration certificate. If you are doing food industry, you need health permits and health certificates.
Question 7: How can the mobile sales vehicle be powered?
A: If it is lighting, you can take electricity directly from the car's battery. If you use other electrical appliances, you need to install a generator and an inverter, or connect to the mains (every vending truck will leave the mains interface).
Question 8: How much is a mobile sales car?
A: The market price of an ordinary mobile sales truck is about 53,000.
Question 9: What are the standard for mobile sales vehicles?
A: The mobile van has a battery, speaker, loudspeaker, locker, lighting, anti-corrosion, and non-slip quality floor leather. The car body can be deployed on three sides. Can be installed: awnings, generators, air conditioners, kitchen equipment and advertising equipment.
Question 10: What can a mobile sales truck sell?
A: You can sell cold milk tea, grilled snacks, record CDs, fruits and vegetables, breakfast, scenic fashion gifts and department stores.
Vehicles extended our range of activities and it's true that they are not only tools but friends. Proper maintenance and repair could keep them in good condition, and it's going to need a wide number of auto parts & accessories. Find the largest selection of auto parts, auto tools, and auto & motorcycle accessories at Made-in-China.com. Need Car Wiper for different vehicles and terrain? We have cheap windshield Wiper Blade, discount flat wiper blade, auto parts for sale and more to meet your needs. Made-in-China.com has you covered and makes it easy to search for all kinds of car wiper factories and suppliers in China. Remember to contact Car Wiper suppliers / manufacturers / wholesalers for more information before making your decision. Having any problem with sourcing? Just contact us and feel free to ask any question!
Bone Brushes Wiper Blade,Car Wiper Blades,Auto Wiper Blades,Frameless Wiper Blades
COMOTECH ASIA PACIFIC (HANGZHOU)CO.,LTD , https://www.capwiper.com