On December 5, 2017,
Double Star
Group Co., Ltd. officially signed a strategic cooperation agreement with Pacific Tire Industrial Co., Ltd. (hereinafter abbreviated as API), a famous tire distributor in the United States. Both parties will conduct comprehensive in-depth research on jointly planning products and expanding the US
tire
market. Cooperation. The Star Group Party Committee Secretary, Chairman, General Manager Chai Yongsen, Deputy General Manager Li Yong, API Global President Jeff Kreitzman, and Technical Consultant Patrick Mullen attended the signing ceremony.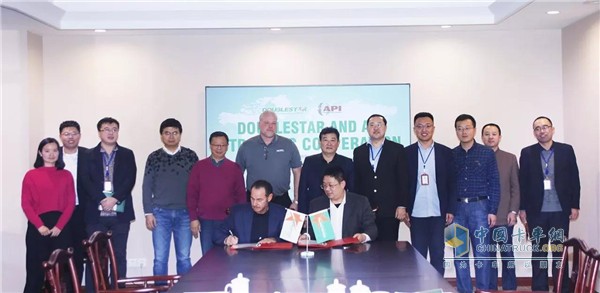 Both parties will jointly plan products
As one of the world-renowned tire manufacturing companies, Doublestar has taken the lead in establishing the first full-process "Industrial 4.0" intelligent factory in the global tire industry, and has pioneered the creation of an open "Service 4.0" and "Industry 4.0" ecosystem. Due to the transformation of innovation and wisdom, in 2016 and 2017, Double Star was awarded National "Industrial Brand Cultivation Demonstration", "Technical Innovation Demonstration", "Quality Benchmarking", "Green Tire Smart Manufacturing Pilot Demonstration Enterprise" and "Service-Oriented Manufacturing" by the Ministry of Industry and Information Technology. The "Demonstration Project" is not only the only company in China that has won five national awards in all five years, but is also the only one that demonstrates the entire industry chain from brand, technology, quality, manufacturing and service. China Tire Intelligent Manufacturing Leader."
The API was founded in 1982 and is a well-known American tire dealer. In recent years, its business strength and purchase volume have increased significantly, and it has had an important influence in the United States. At the signing ceremony, Jeff Kreitzman, president of API Global, said: "The reason why we chose Double Star is to see the dual-star enterprise development strength and global brand influence. Double Star has both a commercial tire industry 4.0 intelligent factory and a passenger tire industry 4.0 The intelligent factory's business, especially the concept of 'developing user resources rather than developing products' has laid a strong foundation for in-depth cooperation between the two parties. It is believed that through joint cooperation between the two parties, it will certainly quickly capture the U.S. market share."
The signing of this strategic cooperation has opened the curtain for all-round cooperation of "strong alliances and complementary advantages." The Double Star Group and the API will make full use of the advantages of the network and products to combine superior products and high-quality services for the United States. Provide the best choices and best experience, and will provide strong support for both parties to further expand the US market, jointly promote the development of the global tire industry, create the reputation of the local first user and brand awareness, and achieve win-win development.
High Pressure Pump is the main part of Waterjet Cutting Machine,it offer power to cut.
now yuanli waterjet pump up to 450MPA, double pump up to550 600 MPA, meets all customers requirement.
High Pressure Pump
High Pressure Pump,High Pressure Air Pump,High Pressure Washer Pump,High Pressure Water Jet Cutting
FOSHAN YUANLI PRECISION MACHINERY CO.,LTD , https://www.ylwaterjet.com