As the youngest domestic joint-venture vehicle company, Dongfeng Renault Automobile Co., Ltd. established at the end of last year faced the same problems as Jaguar Land Rover, JEEP, and Infiniti, how to integrate the existing import vehicle marketing channels to make domestic Renault and Renault's imports. Marketing channels are integrated.
Mr. Reynolds China CEO Chen Zhang
less than three months to complete channel integration
<br> <br> April 1 this year, the original charge of Renault imported cars leaving the employment in the business, his replacement is Chen Wei from China's Dongfeng Renault team. Chen Wei also serves as Renault's senior director of sales and marketing in China and Dongfeng Renault's sales and marketing director. This personnel arrangement opened the prelude to Renault's channel integration. In just over two months, the channel integration of Renault brand import business and joint ventures has been successfully completed.
Dongfeng Renault's first product will not be available until the first half of 2016. In the first domestic Renault listed two years ago, early intervention, the smooth integration of import and domestic auto marketing channels, to achieve a brand, a marketing team, a sales channel. This approach, on the one hand, ensures the smooth development of the imported car business. On the other hand, it has done a good job of building channels for domestic Renault's listing. This is undoubtedly an innovation.
On June 11, Chen Wei pointed out in his communication with some media in Beijing that channel integration can progress so quickly thanks to the ten years of cooperation between Renault-Nissan Alliance and Dongfeng Motor. A decade of successful cooperation has laid a solid foundation for this integration. Whether it is human-to-human trust or institutional mutual familiarity and understanding, both parties have a consistent long-term interest goal.
Chen Wei said that most of the joint ventures have not integrated the marketing channels for imported cars and domestic cars since they were established for 10 years, which has seriously affected the development of joint ventures.
Chery Jaguar Land Rover's first domestic model will be launched early next year. Domestic Infiniti will also soon enter the market. The GAC Fiat Guangzhou plant built for JEEP will be officially laid the foundation on June 18th. Dongfeng Renault's successful practice of integrating domestically-imported channels has provided a good reference for the above-mentioned domestic auto brands.
Carlos Ghosn wisdom
<br> <br> on Dongfeng Renault problems, have to admire the Renault - Nissan Alliance wisdom of President Carlos Ghosn's. In terms of cooperation with the Chinese side, Mr. Carlos showed extraordinary courage and wisdom.
When Nissan and Dongfeng jointly entered into a joint venture, it was said that Nissan suffered a loss. In the name of the joint venture company Dongfeng Motor Co., Ltd., even the name of Nissan was not available. In addition, the joint venture even had some of Dongfeng's debts back. However, Carlos insisted that this joint venture project is of great significance to the long-term development of Nissan in China. Sure enough, Dongfeng Nissan Passenger Vehicles Co., Ltd., a subsidiary of Dongfeng Motor Co., Ltd., will soon enter the first camp of passenger cars in China, and this year its sales volume will exceed one million.
The floods in Japan during the previous years of the Great East Japan Earthquake affected the global parts supply of Nissan Motors. Ren Yong, deputy general manager of Dongfeng Nissan, went to Paris to meet with Carlos and Carlos personally took the initiative to ensure the supply of spare parts to China. In that year, among all Sino-Japanese joint venture vehicle companies, Dongfeng Nissan had the least impact.
For the Dongfeng Nissan joint venture own brand, Carlos also strongly supported. Last year at the Nissan 360 conference held in Los Angeles, the Qichen brand was also shown with Nissan's other brands.
In order to allow Nissan's LEFT electric car to enter the Chinese market as soon as possible, with the support of Carlos, the Nissan LEAF became a Kaichen Morrowind in China and became a joint venture independent brand. By entering the ranks of independent brands, you can enjoy the country's new energy vehicle subsidies.
Can Renault come from behind?
Renault Motors, one of France's two largest automotive groups, sold 2.63 million vehicles in 2013 and sold about 30,000 vehicles in China, accounting for only one percent of Renault's global sales.
Under Mr. Chen Guozhang's leadership, Renault's sales in China grew from less than a thousand years ago to nearly 30,000 last year. However, due to the continuous sale of imported cars, the failure to achieve localization has brought a lot of restrictions on the development of Renault brand in China.
Chen Wei told reporters that Renault's imported cars are expected to reach 40,000 vehicles in China this year, and by the time Renault will be listed in 2016 and with imported cars, Renault's sales in the Chinese market are expected to reach 100,000 units.
Some people questioned that Renault, as a latecomer, as a niche brand, wants to occupy a certain share in the fiercely competitive Chinese market, and it is a very difficult thing to achieve success.
Regarding Renault's view as a niche brand, Chen Wei did not accept it. He said that Renault's products, both in terms of technology and the brand characteristics they exhibited in their designs, are highly attractive to consumers who are pursuing individuality. In the long run, Renault will definitely be assigned to the mainstream brand camp in the Chinese market. It is possible to redefine the European car by its own unique style.
Chen Wei pointed out that Renault's global market share represents its value chain capabilities. If Renault has a market share of 3.5% in the world, Renault should not be difficult to reach 3.5% in China.
At the signing ceremony of the joint venture at the end of last year, Dongfeng Renault stated that the first product of the joint venture company is scheduled to be launched in the first half of 2016, and the localization rate is 85%. In addition, Dongfeng Renault plans to establish a second plant in Wuhan in 2017 to increase its vehicle production capacity to 300,000 vehicles per year. The chairman of Renault Asia Pacific optimistically predicted that by 2018, Renault's global sales will reach 20% in China.
After Renault made it, whether it can quickly expand the market size depends on the consumer's awareness of the Renault brand. Judging from market trends in recent years, Chinese consumers' awareness of legal branding is constantly improving. Coupled with excellent products and outstanding marketing, Renault's presence in China is still possible.
Meticulous division of labour, consecutive processes, professional of manufacture and high standard equipment ensure the high quality of the machine.
Factory introduced high precision maching tools, with the equipment of cutting machine tools, heattreating facilities, check out test sets and painting facilities, the processing ability for middle and large size machine, reach a high level in plastic industry while the quality if the machine is ensured at the same time.
Middle size machine can produce differnt design of crates and containers, videos can be provided.
Vertification of many year's market application, optimal combination configuration, stable, reliable and durable system with the characteristics of high efficiency, energy saving, low voice and strong power.
The strengthening design of template is carried out through multiple times of optimization design of major components such as template, based on the analysis of finite element software, which both guarantee the lifetime of template and protected mould.
High rigid template adopts the structure with coexistence of installation screw hole and T-shaped groove.
The tie rod of each machine model has passed the test by professional testing organization, which means that, the deflection of tie rod is within reasonable scope while guaranteeing the operation of machine.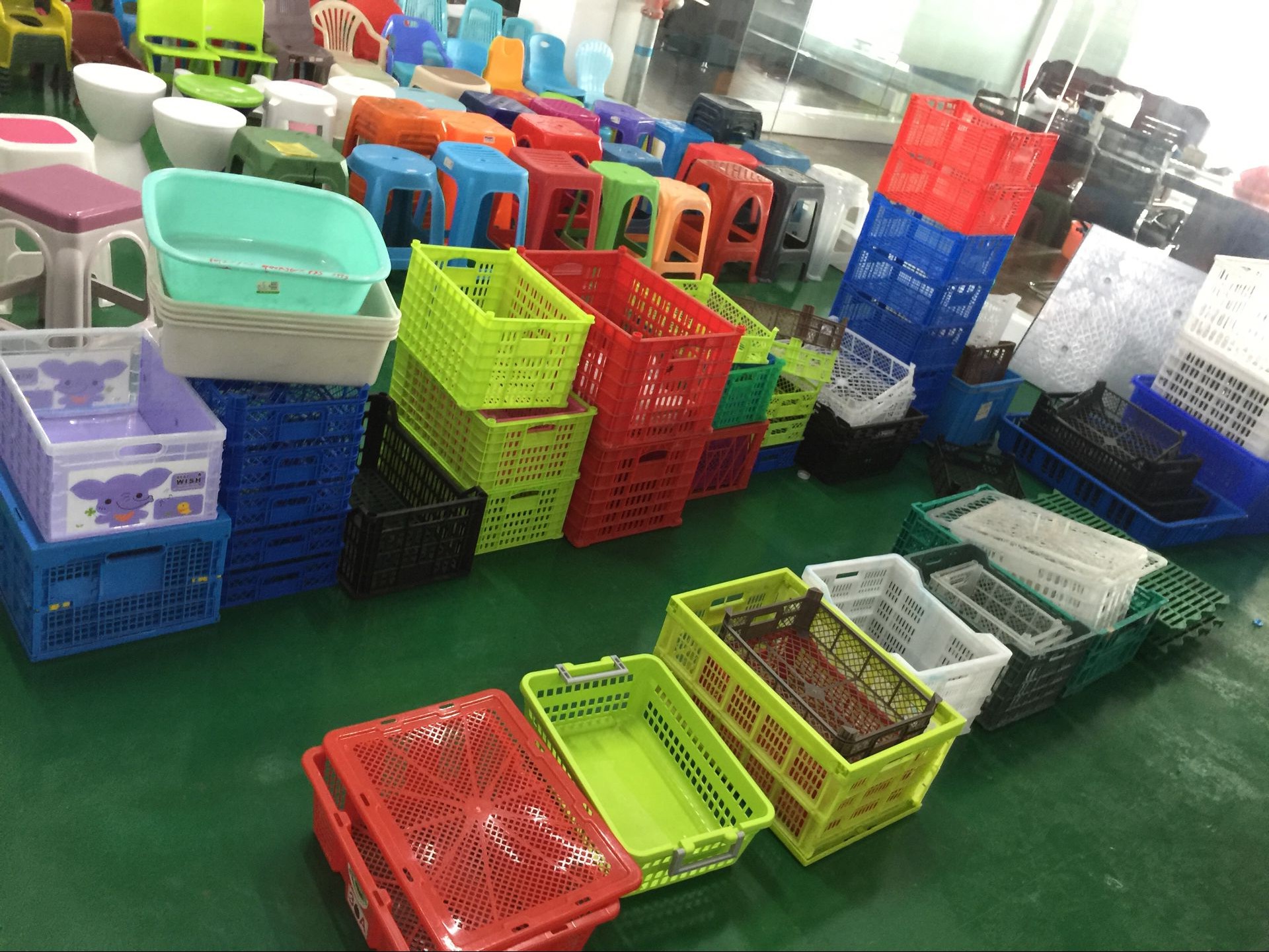 Plastic Crates Making Machines
Plastic Crates Making Machines,Crate Making Injection Molding Machine,Crate Injection Making Machines,Plastic Basket Bucket Crate Making
Ningbo Tongyong Plastic Machinery Manufacturering Co. Ltd. , http://www.tongyongmachinery.com