At present, China's major technical equipment has mastered some of the key manufacturing and designing technologies for chemical plants in terms of scientific research and innovation. Such as the completion of large-scale synthetic ammonia plants using natural gas as raw materials, large-scale ethylene plant crackers and some large-scale petrochemical equipment successfully transformed. Especially the extensive application of new unit equipment (such as membrane separation equipment, laser-induced reactors, laser rheological processing equipment) shows that China's chemical equipment industry has entered a brand-new start-up phase. However, compared with foreign advanced countries, the current level of China's chemical equipment is still relatively backward. The author believes that there are three key issues that must be resolved to improve China's chemical equipment technology level: First, optimize the chemical equipment production structure. The core of structural adjustment of chemical equipment is to optimize and upgrade chemical companies, reduce operating costs, achieve less maintenance or maintenance, and increase economic efficiency. Therefore, the requirements of high technological content, such as high efficiency, low consumption, energy saving, environmental protection, high parameterization, high reliability, intelligence, large-scale or miniaturization, and high integration, have become the main orientations for upgrading the product structure of the chemical equipment manufacturing industry. . It must be emphasized that the structural upgrade of the chemical equipment manufacturing industry should try its best to adopt new technologies, improve the starting point for transformation, and realize leap-forward development. The combination of high-tech and information technology that has developed rapidly in recent years with the traditional equipment manufacturing industry can revolutionize the production methods and products of the equipment industry and push the equipment manufacturing industry into a new stage of development. The second is to increase the research conversion rate. Since the reform and opening up, China's scientific research has made rapid progress and it has overcome some world problems. However, on the whole, the conversion rate for scientific research in China is still very low. On the one hand, some major scientific research achievements and patents have been shelved. On the other hand, some industries are still in production with low technological content, poor precision of equipment, and low level of intelligence. status. Therefore, China must establish systems and mechanisms that are conducive to technological innovation, and establish a technology system and internal mechanisms that take enterprises as the main body and adapt to the requirements of the socialist market economy system and the development of modern science and technology. Large and medium-sized enterprises should establish and strengthen technology development centers, and actively promote cooperation between enterprises and universities, research institutes, and design institutes, take the path of integration of production, research, and research to increase the proportion of cooperation, development and commissioning, and promote various forms of Technology development cooperation and the flow of science and technology and knowledge make full use of various scientific and technological resources in society. Through the effective operation of the Technology Development Center, the company has a number of new technologies and new products with independent intellectual property rights, increases the company's new technology reserves, and is truly capable of adapting to changes in market demand, and developing new high-level products in a timely manner. . The third is to accelerate the pace of international access, and meet international standards. Operating according to international standards and norms is a prerequisite for participating in international competition. In today's economic globalization, localized equipment should be modern and competitive. Localization does not mean reducing standards and quality. The quality and performance of domestically produced equipment should comply with international standards. The contents of the equipment contract should be operated according to international standards (such as delivery date, after-sales service, risk-taking, etc.). Such localization is competitive. After China's accession to the WTO, it will face greater challenges in terms of major technical equipment and high-tech equipment. It will be more urgently needed to match the international market standards and gradually increase its competitiveness.
Intergrated Design Batch Waste Tyre Pyrolysis Plant
Pyrolysis Plant is used for recycling waste tire, waste plastic, waste rubber to fuel oil. According to the actual situation in every country and district, we developed different models of Batch Pyrolysis Plants for waste tires, rubber and plastic with daily capacity 5 -10 tons.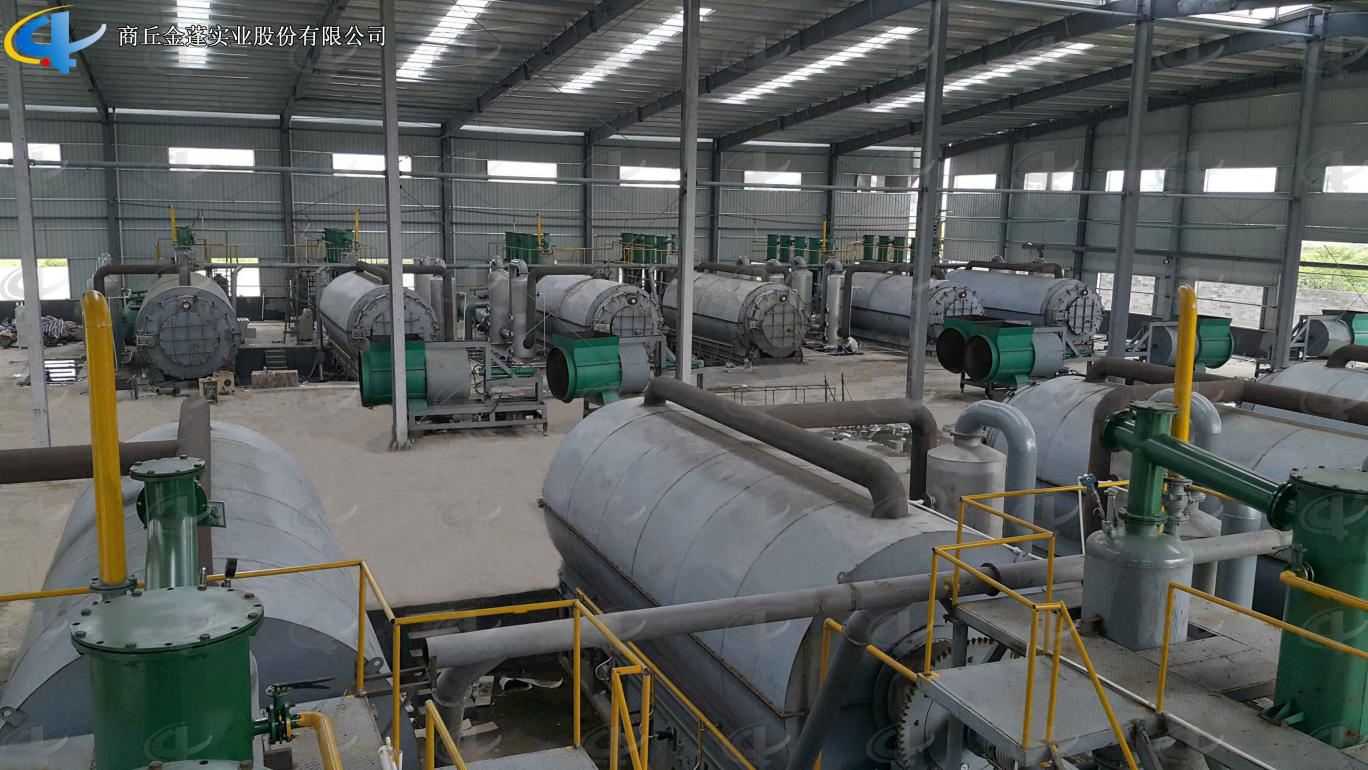 Flowchat of Batch Waste Tyre Pyrolysis Plant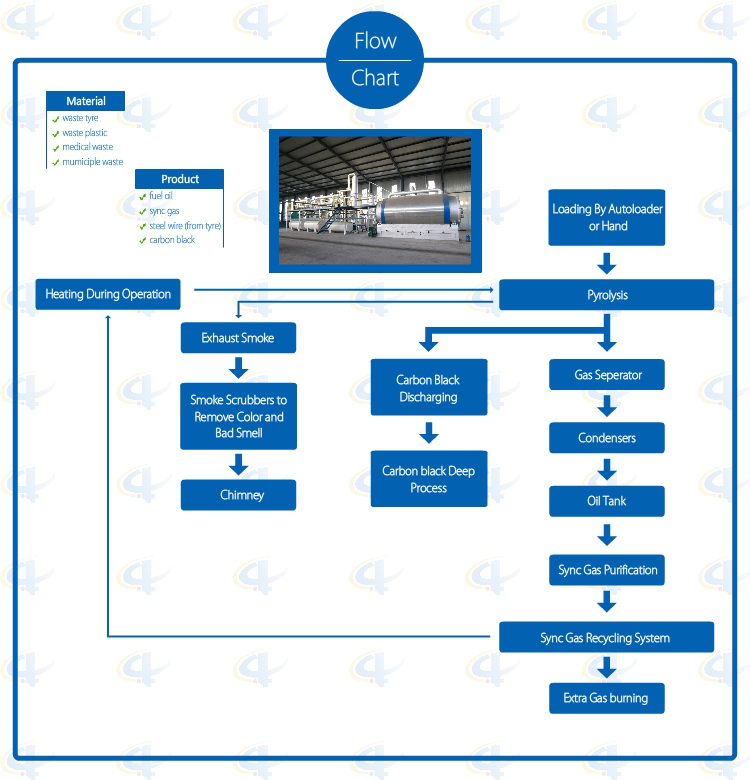 Advantages of Batch Waste Tyre Pyrolysis Plant
1. Full open door design: Speedy loading in and steel pulling out; Easily cooling down after one batch finished, saving time; No leaking with special high temperature flexible graphite packing.
2. Unique Craft Condensers: High condensing efficiency with more oil output. Good quality oil, longer lifetime, and easy to clean.
3. National Patent Unique Smoke Scrubbers: More efficient removal of the acid gas and dust of the smoke by neutralization, purification and absorption, environmental friendly without pollution.
4. National Patent Carbon Black Discharging System: Speedy fully enclosed Auto-discharging under high temperature, avoiding carbon black pollution, saving time.
5. Automatic Submerged welding technology, ultrasonic nondestructive testing, both manual and the automatic safety devices.
6. Sync Gas Recycling System: Fully burned after recycling and utilization, saving fuel and preventing pollution.
7. Direct Heating System: Enlarging heating square to lengthen the lifespan of the reactor and easy to control the temperature.
8. National Patent, unique heat insulation shell; high efficiency temperature keeping, excellent energy-saving effect.
Technical Parameter of Batch Waste Tyre Pyrolysis Plant
NO.

ITEM

PROJECT

1

Equipment Model

XY-7

XY-8

2

Door Model

Full Open Door

Full Open Door

3

Suitable Raw Materials

Rubber/Plastic Products

Rubber/Plastic Products

4

Structure

Horizontal Type Revolves

Horizontal Type Revolves

5

Reactor Size

Φ2200*6000mm Φ2600*6600mm

Φ2200*6000mm Φ2600*6600mm

6

Capacity for One Batch

5-6Mt; 8-10Mt

5-6Mt; 8-10Mt

7

Oil Yield of Tires

40%-45%

40%-45%

8

Work Pressure

Normal Pressure

Normal Pressure

9

Reactor Rotation Speed

0.4R/M

0.4R/M

10

Fuels Choice

Coal, Wood

Coal, Wood, Gas, Oil

11

Power

18KW/H

18-25KW/H

12

Cooling Method

Water Cycling

Water Cycling

13

Type of Drive

External Annular Gear

External Annular Gear

14

Heating Method

Direct

Direct

15

Type of Installation

With Foundation

With Foundation/Integrated Base

16

Noise dB(A)

≦85

≦85

17

Operation Mode

Intermittent Operation

Intermittent Operation

18

Total Weight(MT)

25-40

25-40

19

Installation Space Required

30m*10m

30m*10m

20

Manpower

3~4/batch

3~4/batch

21

Shipment

Ф2200×6000=1*40HC+1*40FR

Ф2600×6600=2*40HC+1*40FR

Ф2200×6000=1*40HC+1*40FR

Ф2600×6600=2*40HC+1*40FR
Integrated Design Batch Waste Tyre Pyrolysis Plant
Integrated Batch Waste Tyre Pyrolysis Plant,Integrated Movable Waste Tyre Pyrolysis Plant,Large Capacity Used Tires Pyrolysis Plant,Integrated Batch Used Tyre Pyrolysis Plant
Shangqiu Jinpeng Industrial Co., Ltd. , http://www.recyclingthewaste.com