On June 14, 2019,
Yuchai
Group and Huawei Technologies Co., Ltd. (hereinafter referred to as Huawei) signed a strategic cooperation agreement in Shenzhen. The two sides will implement strategic cooperation in the fields of R&D, informationization, internationalization, and enterprise management to jointly promote the business of both parties. development of. Yu Ping, Chairman of Yuchai Group, Huawei Director and Chairman of Enterprise BG, Li Lida attended the signing ceremony and witnessed the signing of the agreement.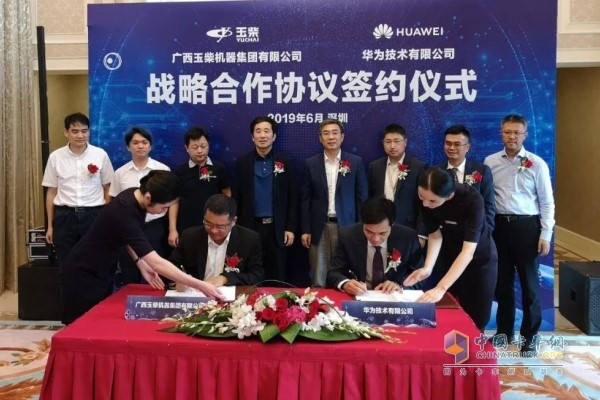 Yuchai Group and Huawei Technologies Co., Ltd. signed a strategic cooperation agreement in Shenzhen
According to the agreement, Yuchai and Huawei will give full play to their respective advantages in enterprise management transformation, business process reengineering, 5G, new energy, intelligent transportation, smart park, cloud computing, big data, enterprise data center, photovoltaic inverter and internationalization. Comprehensive and in-depth cooperation in areas such as business development. This cooperation will help achieve the common value-added of the products of both parties, and provide customers with smarter and more diversified services to achieve a win-win situation.
It is reported that Yuchai, as a leading enterprise in the internal combustion engine industry, conforms to the trend of intelligent development. Starting from 2018, it plans to invest 5.2 billion yuan to build a new generation of Sixth Engine and a smarter smart factory that is more efficient, energy-saving and environmentally friendly. It is expected to achieve the goal of internationalization of enterprises through the opportunity of upgrading the emissions of the National Sixth. At present, Yuchai Guoliu's R&D and production line construction has entered a key stage of intelligent transformation of information systems. Yuchai hopes to carry out more technical cooperation with Huawei in the reform of R&D system, digital and intelligent factory construction, and continuously improve the Group. Service capabilities, management capabilities, system capabilities, and comprehensive competitiveness, promote the deep integration of emerging technologies such as big data, 5G, cloud computing, mobile internet and traditional manufacturing services, and help Yuchai successfully achieve strategic transformation and continue to lead the country in the new era. To better meet the needs of customers.
Reading volume: Source: Yuchai United Power Author: Le Feng
Double Layers Waterproof Shoe Cover Making Machine
KYD ,founded in 1999, is a high-tech enterprise with all vitality ,potential and comprehensive strength. Our Double Layers Waterproof Shoe Cover Making Machine manufactures shoe cover,which is used in hospital and dust-free working environment .It's fully automatic from feeding to finishing products.The machine can reach the speed of 60pcs/min. We can make the machine according to the customer's detailed requirement. Only need to change the mold of different products size.
Double Layers Waterproof Shoe Cover Making Machine
Double Layers Shoe Cover Making Machine,Waterproof Shoe Cover Making Machine,Shoe Cover Making Machine
KYD Automatic Mask Machine Factory , https://www.kydultrasonic.com