Model NO.:

TR-FMB50/650, TR-FMB55/850, TR-FMB60/1100

Raw Material:

PE

Screw Diameter:

75mm

Computerized:

Computerized

Certification:

CE, ISO9001:2008

Specification:

ISO, CE

HS Code:

8477800000
Type:

High and Low Pressure Film Blowing Machine

Maximum Folding Width of Film:

2500mm

Automation:

Automatic

Machine Weight:

4T

Trademark:

TianRun

Origin:

China
Its extruder, cylinder and screw rods are made of quality alloy steel that have been nitrized and processed in a precision way. Hence it is sound in hardness, durable in corrosion resistance, The specially-designed screw is of sound quality in plasticizing, which helps increase the production capacity. It is applied to blowing the plastic films like low density polythene (LDPE), high density polythene(HDPE) and linear low density polythene (LLDPE). It is widely applied to producing the packing bags for foodstuff, clothing, rubbish bag and vest ones.
Optional devices:
1). Auto loader
2). Film surface treater
3). Air compressor
4). Mechanical screen changer.
  Model
  TR-FMB50/650
  TR-FMB55/850
  TR-FMB60/1100
  TR-FMB65/1400
  Suitable Material
                                                                                      HDPE, LDPE, LLDPE
  Film Width (mm)
  300-600
  300-800
  400-1000
  600-1200
  Film Thickness (mm)
  0.01-0.05
  0.01-0.05
  0.01-0.05
  0.01-0.05
  Max. Extrusion Output (kg/h)
  55
  70
  85
  110
Extruder
  Screw Diameter (mm)
  Φ 50
  Φ 55
  Φ 60
  Φ 65
  Screw L/D Ratio
  28: 1/30: 1
  Screw Material
  SACM-645/38 CRMOALA
  Cylinder Material
  SACM-645/38 CRMOALA
  Cylinder Cooling (kw)
  0.25
    0.25X2
  0.25X2
  0.25X3
  Driving Motor (kw)
  11
  15
  18.5
  30
  Temperature Control
  3
  3
  3
  4
  Average Power-consume (kw)
  14
  22
  26
  37
Die
  Die Size (mm)
  Φ 60/80
  Φ 80/100
  Φ 100/120
  Φ 100/150
  Φ 100/150
  Φ 150/200
  Φ 200/250
  Φ 250/300
  Temperature Control
3
  Air Ring
1
  Air Blower (kw)
  3
  3
  3
  4
  Center Steady Stick
2
 Take-up
  Pinch Roller (Dia. width) mm
  650
  850
  1100
  1300
  Height Adjustable Type
  700
  Take-up Speed (m/min)
  10-100
  10-100
  10-100
  10-80
  Take-up Motor (kw)
  0.75
  0.75
  1.1
  1.5
Winder
  Type
  SURFACE FRICTION TYPE
  Winding Motor (N. m)
  5/10
  5/ 10
  10/16
  10/ 16
  Winding Speed (m/min)
  10-100
  10-100
  10-100
  10-80
  Cover Dimension (m)
  5.0*2.1*4.5
  5.0*2.3*4.8
  5.5*3.3*5.5
  5.8*3.6*6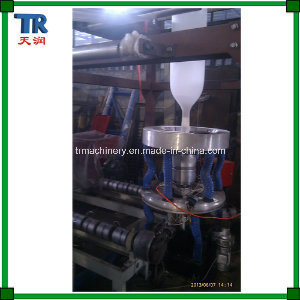 Butterfly Valve Ball Valve Co., Ltd. , http://www.nsbutterfly-valve.com