Model NO.:
MPU Pneumatic Fitting
Temperature:
-20~80degree
Surface Treatment:
Nickel Plated
Transport Package:
PP Bag + Box + Carton + Pallet
Product Description
feature:
1) Material of Fitting body: brass;
2) Release rings: round;
3) LOGO on ring: No LOGO;
4) Working Temperature: 0-80C
5) Working pressure: 0-20Bar
6) Fitting types available: Straight fitting, elbow connector, tee branch, bulkhead fitting, y type etc.
7) The fittings can work well even if you test fittings under 40bar within 5-10mins.
8) The fittings can work well even if you test under -20 degree to 80 degree within 3 hours. But normal working temperature is -10 degree to 60 degree.
9) we test the fitting one by one before we send to customer.
Application:
1. One Touch joints used in pneumatic piping
.
2. Used for a wide variety of models to meet all demands.
3. Easy to connect/disconnect tube by one touch.
4. PC Type is useful for piping in confined space, given its six-angle wrench processing inside.
5. Flexible for directional tube with its revolving construction of body (PL & PT Type)
6. Fitting is equipped with O-ring or Teflon coating on the thread.
                                                  Tube(Metric)
MPU04
MPU10
MPU06
MPU12
MPU08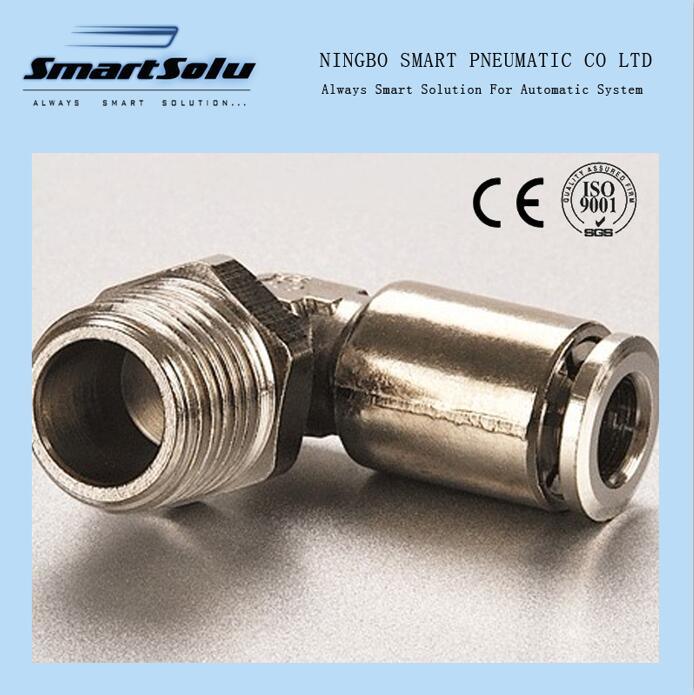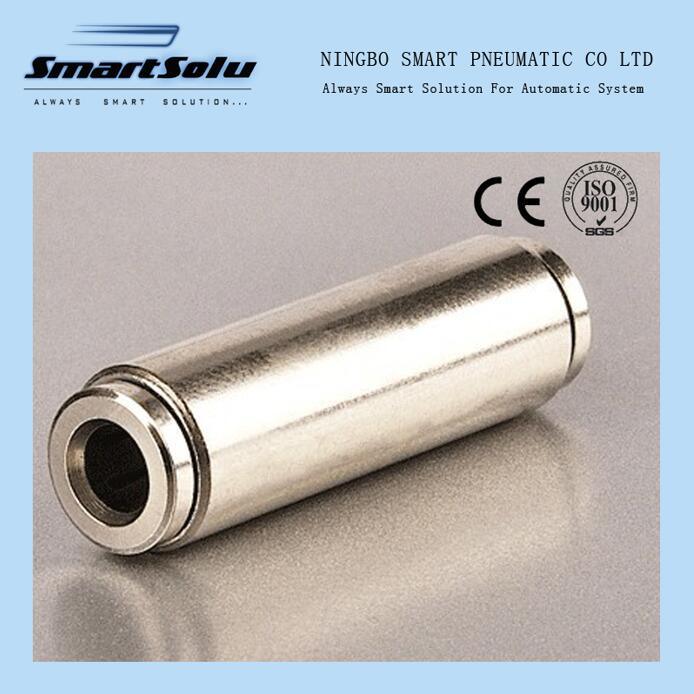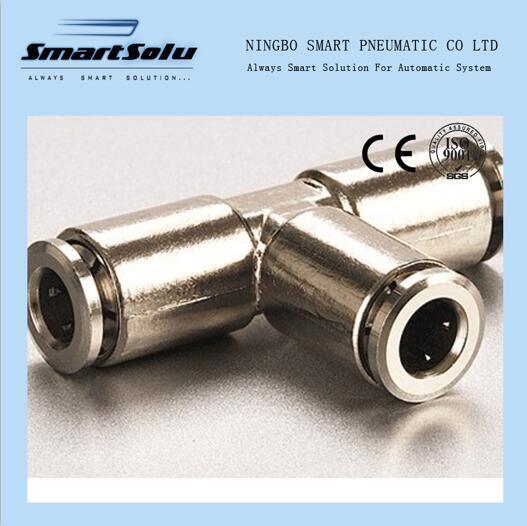 The information about our company:
NINGBO SMART PNEUMATIC CO LTD is specialized in manufacturing all kinds of hydro pneumatic components, aluminum parts and plastic parts. Our main products are including pneumatic cylinder, (air cylinder), solenoid valve, air filter, air regulator, air lubricator, pneumatic fitting, hydraulic fitting, tubes, muffler (silencer) etc
NINGBO SMART PNEUMATICS' sprit:
we will give you the best quality, the competitive price, the quick delivery, the perfect service. Our goal to customers is "Always Smart Solution for your Automatic System."

NINGBO SMART PNEUMATIC hopes to work together with you, developing in parallel!
WHY CHOOSE US?
(1) Quality, we only produce top-level quality products, we promise that all of our product's raw material are first class, and good quality system controls, so our goods' quality is very good.

(2) Price, our policy is that "Win-to-Win". That means in view of our long-standing business relationships, we only take small profit to help you for the marketing.

(3) Delivery, we alway have some products in stock, so we can complete the delivery within the time stipulated before.

(4) No MOQ, I think it is an attractive condition to some of you who have no big demands for each items temporarily.
Attention:
1.We have special departments to ensure that no strict quality control any quality problem before delivery.
2.Carefully check goods size table and product specifications. Please check detail with customer service before buying
3.Receiving or take the goods, please sign the bill after the first inspection, if have damaged items, or a few goods phenomenon, please do not sign, the first contact with the customer details and make logistics company personnel or personnel in proof of delivery after processing, or receipt of any problems after the Seller shall not be held responsible.
 

OFPT Single Core Optical Fiber Splice Protection Sleeves

Product Description:
OFPT Single Core Optical Fiber Splice Protection Sleeves is made of transparent heat shrink tube, transparent heat melting tubing and stainless steel rod. Fiber Optical Heat Shrinkable Tubing it applies to coupler, adapter, optical fiber jumper, etc.

Feature & benefit:
a) Do not affect the optical properties of the optical fiber; Protect Splice, improve mechanical strength.
b) Easy to operate, reduce the danger of optical damage during installation.
c) Transparent tube, optical connection status is clear at a glance.
d) Shrinkable, seal structure makes the slice have high temperature resistant and dump-proof properties.

Operating indexes:
a) Working temperature: -45~100 degrees Celsius/-45~135 degrees Celsius
b) Min. Shrink temp.: 80 degrees Celsius

c) Final shrin temp.: 12 degrees Celsius
Product images: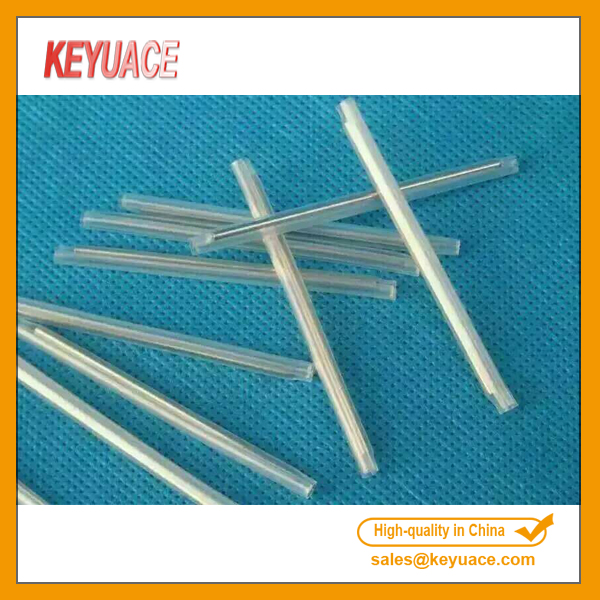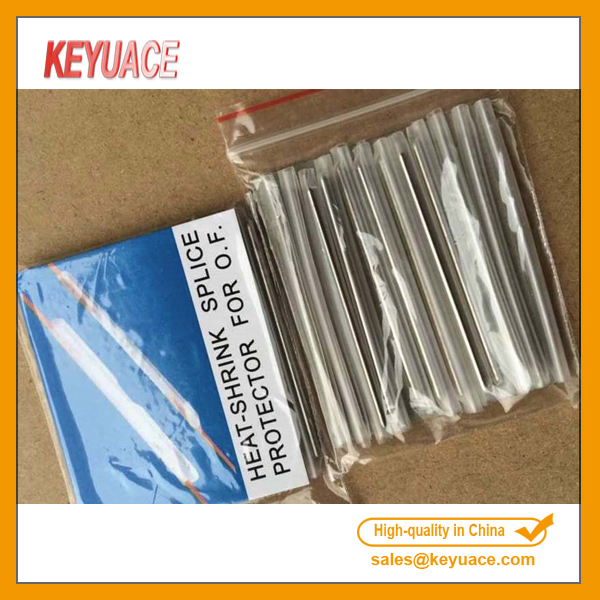 Product dimension: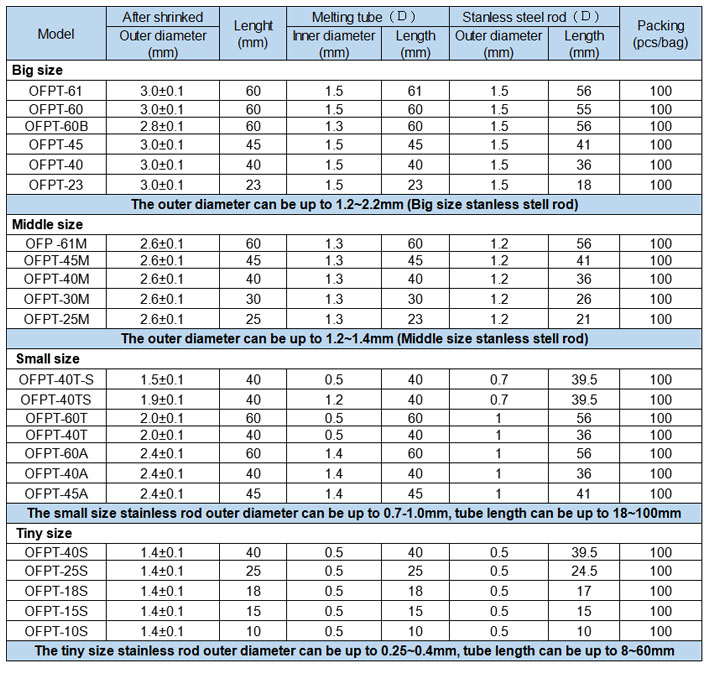 Fiber Optical Heat Shrinkable Tubing
Fiber Heat Shrink Tube,Fiber Optic Heat Shrink Sleeve,Thin Wall Clear Heat Shrink Tubing
KEYUACE Materials Co., Ltd. , https://www.insulationtubing.com